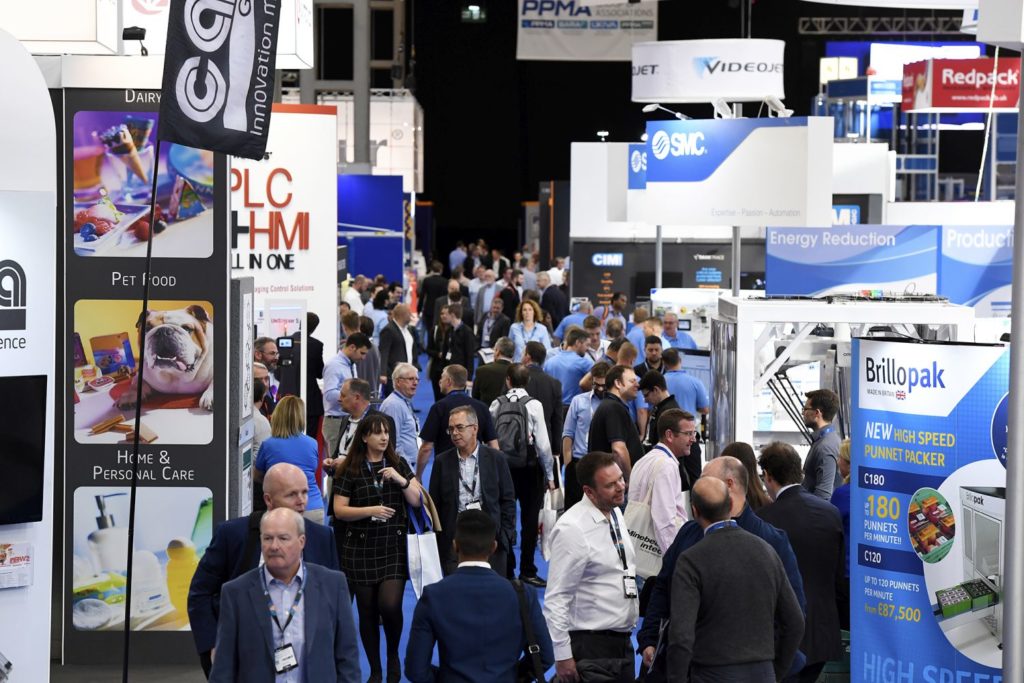 ANOTHER successful PPMA Show is the books as the great and the good of the processing and packaging machinery sector made their way to the NEC Birmingham to showcase and learn about the latest products and innovations to hit the marketplace.
This year's event – which marked the 30th anniversary of the trade exhibition – featured a record 373 exhibitors and an array of expert speakers, who tackled some of the biggest issues currently facing the industry.
Keynote speeches were made by Lord Mark Price, the former Minister of State for Trade and Investment, and Jonathan Warburton, chairman of Warburtons. Some of the major topics debated during the three-day event included automation, sustainability, augmented reality and, of course given the current furore over plastic waste – the impact of plastics in packaging.
As always, a number of products were officially launched at the PPMA Show, including Brillopak's new BR2 and BR5 punnet packer machines. Described as a response to market requests for a "versatile, speedy yet affordable" top seal punnet packer, the system is said to cater specifically for the fresh produce market. Brollopak said the machines reach a top speed of 120 and 180 packs per minute and maximise throughput by collating product into a full layer, lifting and lowering in one "seamless" motion into the crate or box.
Sustainability was high on the agenda, with RPC bpi protec displaying samples of the firm's latest non-laminate products. Made from PE, the fully recyclable X-EnviroFilm and X-EnviroPouch are part of the company's X-Range, which vows to provide flexible packaging products that offer value to food manufacturers and retailers, including increased line speed, portion control management and recyclable alternatives. RPC bpi protec's Nikki Sinclair told us, "The plastics debate has been going on for just under 12 months now. It was very emotive when it happened; a lot of things didn't quite perhaps get discussed in the best way. I think people are now realising that plastics do have a part to play – they are lightweight, they protect the product, they give extended shelf-life – and they can be recycled as well.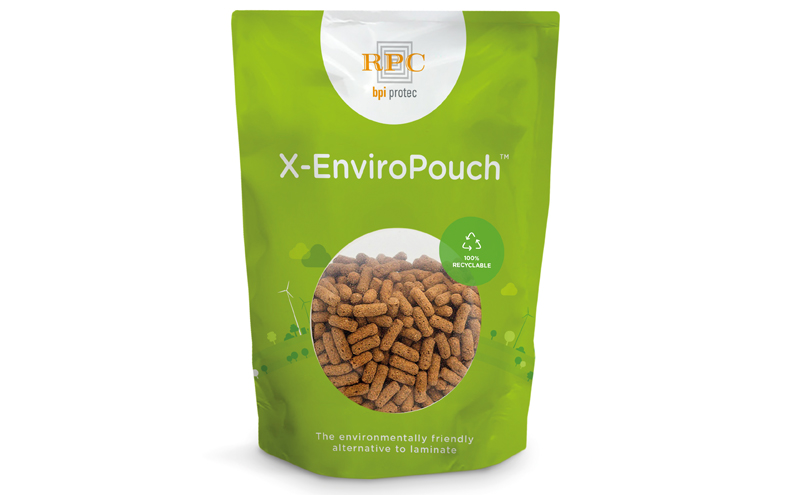 "We've had a lot of people coming on that want to buy the product and are also interested in what we're trying to achieve and how we're trying to achieve it."
Yorkshire Packaging Systems YPS exhibited a full complement of shrink-wrapping solutions. Unique this year was the firm's 'film station', a dedicated exhibit for the B-NAT bio-based shrink film, which YPS said heightened awareness of the product, which was launched last year. A spokesperson said, "PPMA 2018 was a brilliant event for YPS. Our stand was crowded with visitors each day and as a result has generated a host of exciting leads for both our machinery and film divisions that we are eagerly following up already. We also welcomed a lot of existing customers at the event who come to our stand year after year to see what new packaging solutions we have on offer, which keeps relationships
"Shows like the PPMA are really important for our business because they are a hugely effective marketing tool that offers more extensive reach potential than any other medium. A large amount of customers can be targeted at one time and in one place and no other marketing tool can offer this. Additionally, the power of having live exhibits of our equipment on our stand is huge as the customers can understand the workings of the machine, its footprint, its capacity, etc."
ILAPAK unveiled its new Carrera 1500 flow wrapper. The successor to the Carrera 1000, the machine is said to have balanced the demands of budget, build quality and flexibility requirements by "rationalising" the number of added features and "re-engineering" the machine frame design and sealing system.
Marco Pocaterra, Carrera 1500 development team manager at ILAPAK said, "We know that food manufacturers love the versatility and reliability of the Carrera 1000, but we also know, from conversations with our customers, that production budgets are continually being squeezed. This cost pressure isn't going to disappear, so we have removed some of the features that are superfluous to requirement for most medium-sized operations, and identified ways of stripping out cost whilst enhancing the build quality and performance the industry has come to expect from this market-leading flow wrapping platform."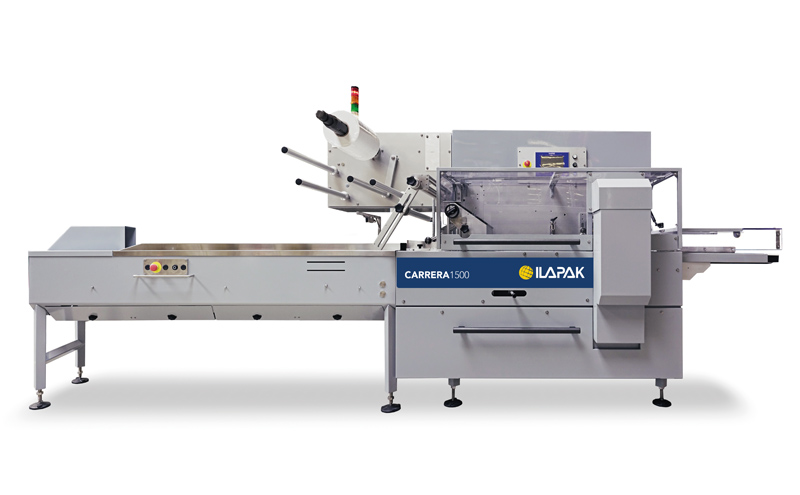 Cumbernauld-based Zepf Technologies UK showcased the firm's latest multi-position changepart systems. General manager Les Aitken said the event had generated a lot of good leads, describing it as "our window to the world".
"Everybody's looking for the next generation of changeparts," Les explained. "Everybody's exploring what the potential of new technology is so we've got to be there. The feedback has been fantastic. For us, this is our window to the world. We've got a website, which we get enquiries through. But you can't beat talking to someone, having a conversation and letting them touch and feel the parts. We're a niche subset of capital expenditure. People buy a full machine and get parts with it, but don't know where to go if they need that custom-designed part."
Corrugated specialist Cepac teamed up with Adpak to develop the country's first automated solution for curved corrugated product Arcwise. The new technology was unveiled to the market in Birmingham, with the aim of offering customers "unique design and innovation possibilities" across a range of applications. Arcwise technology is said to allow corrugated board to form new shapes, Adpak, in combination with the GPI Group, has developed machinery which auto-erects and fills Arcwise boxes.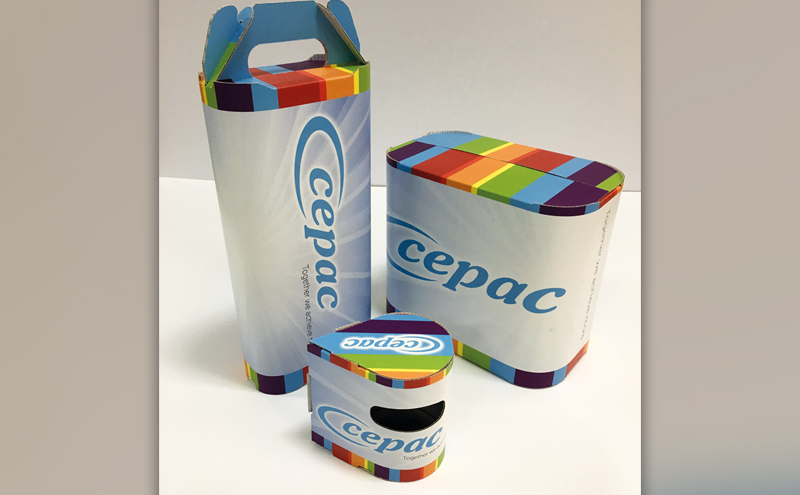 Advanced Dynamics, the UK distributor of the Pack Leader Group's range of technology, debuted a new concept at PPMA in the shape of the FL-122 twin lane automatic filling system. Said to be ideal for large production ruins, Advanced dynamics said the machine's 12 filling heads can cope with a "huge variety" of fluids that need bottling at speed. Features include a drip detection system, holding mechanism to position bottles accurately, and bottle jam detection.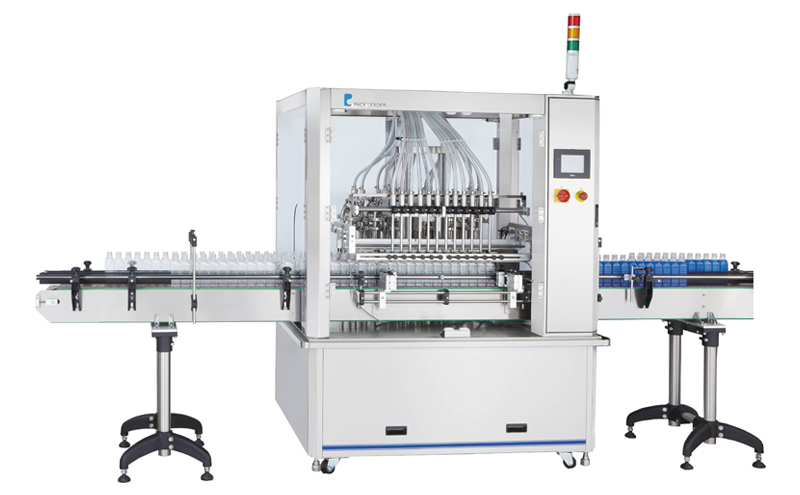 Visitors to the Comau UK stand were able to see the features of Comau PickAPP, an Android application that allows users to control industrial robots in an "easier and faster" way. A PickAPP cell with a Racer 3 robot engaged in pick and place operations, moving chocolates on a work table.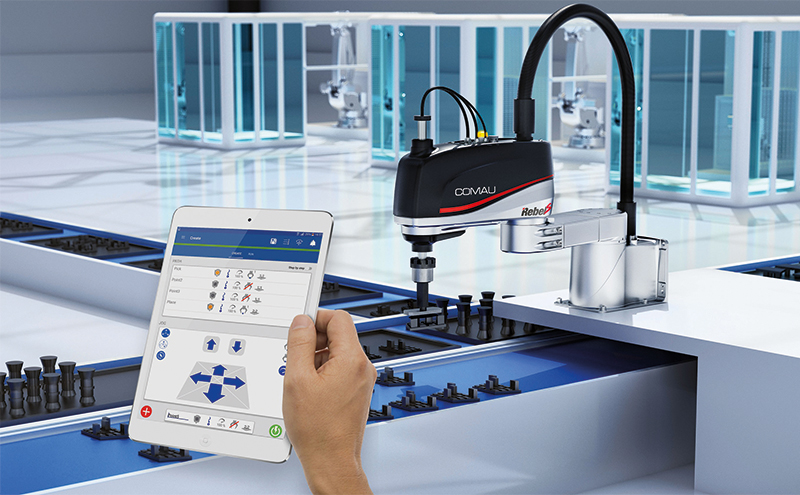 Fortress Technology pointed to statistics showing that 44% of British adults suffer from at least one allergy. To allow food businesses to improve the management of dry and bulk food allergen risks, the firm has redesigned its gravity metal detector. At PPMA Fortress showed off its new Gravity Ultra+ metal detectors, described as featuring a retractable easy access reject mechanism and being "easier and faster" to roll out and sanitise. The system also boasts fewer flat surfaces and fasters where powdered ingredients can accumulate. Fortress said the Gravity Ultra+ system offers manufacturers a more reliable way to catch all metal contaminants when inspecting free-falling products in dry, granular and bulk form, such as cereal, sugar and nuts.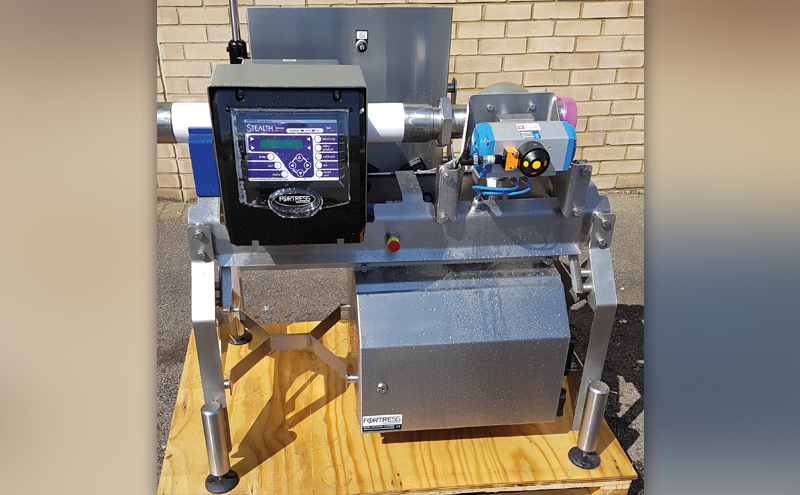 Automated Packaging Systems launched an online sustainability resource featuring three key areas: Information on what the firm is doing to ensure its products have minimal impact on the environment; sustainable considerations for customers when choosing packaging processes and materials; and a section providing consumers with information on how to be more environmentally conscious.
TM Robotics, with UK distributor RARUK Automation, demonstrated Toshiba Machine's THL700 SCARA robot. Operating in collaboration with the Flexibowl feeding system, the robot exhibited a fully automated pick and place system. TM Robotics described the THL700 as one of the most "cost-effective" in the SCARA series, making it "ideal automation" for price-conscious end-users and systems integrators. MD Nigel Smith said, "Uniting this with the Flexibowl system provides these users with a fully automated system to simplify otherwise tedious processes."
Endoline Machinery claims to have "set the benchmark" for health and safety within food manufacturing facilities with the launch of its re-engineered 704 Fully Automatic Random Case Sealer. The product now features an in-feed safety light curtain as standard and ergonomic design improvements for safer operator access.
Kensal Handling Systems constructed a striking scaled down bottling line at the show, running 500ml PET bottles supplied by Lucozade Ribena Suntory. Operations director Chris Tebbutt said, "We're a family business based in Luton. We manufacture a wide range of conveyor products. We're exhibiting some of the elements you'd get on a bottling line, and some you'd get on a case handling line."
Chris explained that certain elements of the packaging industry are "very traditional" and many components on a bottling line look similar to what was on offer five or ten years ago. However, innovation can be found in the shape of "subtle" differences. "There is new innovation," he said. "There are new slat products which are stronger, smother, cause less friction, are more robust and will last longer. A lot of the changes and innovation are things you can't really see."
Dr Andrew Mint, CEO of the PPMA Group said, "We are absolutely delighted that the show has received such positive feedback from our exhibitors. We are also thrilled that, once again, the show attracted the right calibre of visitor with a genuine sense of purpose. The fact that such high numbers of quality leads were generated; so many positive discussions took place; and so much business was secured at the show, is testament to there still being a strong appetite for this event."