10p bag levy: a step in the right direction or double trouble?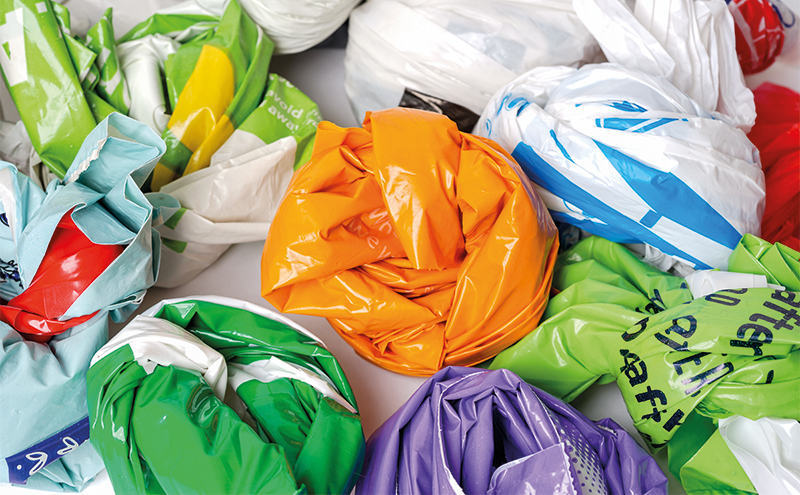 With the UK Government poised to double the single-use plastic bag levy to 10p – subject to consultation – south of the border, Packaging Scotland reached out to two industry experts for their views on whether Scotland can be expected to follow suit, having introduced the initial 5p charge back in 2014.
By Jenni Hume, Association for the Protection of Rural Scotland

THE 5p carrier bag charge was introduced in Wales in 2011, Northern Ireland in 2013, Scotland in 2014 and finally in England in 2015 as a tool to reduce their use. Since then, the Marine Conservation Society have reported finding the lowest number of plastic bags in a decade, using data collected during their Great British Beach Clean surveys.
The success of this initiative is certainly worth celebrating but, four years on, governments in the UK are reviewing their respective policies and pushing their ambitions further. In England, for example, where smaller shops were exempted from the requirement to charge for carrier bags, plans are underway to include all shops and double the charge to 10p per bag. We know this is supported by the National Federation of Retail Newsagents and small retailers, who are keen to play their part in reducing waste and packaging.
As an organisation whose members are concerned about the blight of litter in Scotland's countryside and rural towns, we're keen to see further progress here too. In January this year, Roseanna Cunningham, Scotland's Cabinet Secretary for Environment, Climate Change and Land Reform, showed great leadership by establishing an expert panel to oversee a transition towards banning all single-use plastic items by 2030. It remains to be seen what the panel will recommend for the expansion of the carrier bag charge in Scotland.
Perhaps they will bypass a charge increase and instead advise an outright ban of single-use plastic bags? We would support such ambition, with a caution that we must reduce our reliance on single-use items of all materials, not only plastic – and we must take account of lifecycle carbon impact as well as accessibility for people with disabilities. All types of packaging gets littered and uses resources, so government must address the wider issue through the introduction of extended producer responsibility on all materials.
At the moment, there is little economic incentive for producers to reduce waste and build a circular economy. When it's possible to externalise costs onto the taxpayer and the environment, a minority always will, and that gives them an advantage over businesses that do the right thing. Proper extended producer responsibility across all materials, on the other hand, would mean a level playing field that actually encourages innovation and sustainability. Let's see whether our governments are ready to take this momentous step.
By Ewan MacDonald-Russell, head of policy, Scottish Retail Consortium
THE carrier bag charge is one of the more interesting recent public policy issues. In this case the interests of consumers, retailers, and government are all aligned.
Everyone agrees we want to use fewer single-use bags. Consumers felt a small charge for using these bags was proportionate. Retailers needed to purchase fewer bags and could use the proceeds of the charge to support good causes.  Indeed, Scottish retailers donated over £3 million to causes from those proceeds last year and in Scotland we've seen a reduction of over 80% of single use carrier bags. One of the reasons for this success in Scotland was the constructive manner the policy was developed. Industry and government were able to engage to ensure the objectives were met in the most practical way possible. It was particularly welcome the Scottish Government were willing to learn from the lessons learnt in Wales from the policy and produce Scottish regulations which were similar.
It's a source of regret the UK Government choose to take a different approach in England, and therefore unsurprising they've had to go back to improve the regulations. The decisions to have different exemptions on store size and materials led to an uneven playing field.
However, we're perhaps less persuaded of the case for changing the charge in Scotland. Retailers recognise how important it is to their customers to tackle plastic pollution, removing it where possible and ensuring all packaging is recyclable. It's clear the original 5p levy had the intended impact of encouraging customers to reuse bags and single use carrier bags have already been reduced enormously in Scotland.
To be honest, it's hard to see how a further increase will encourage greater reductions. There may be consumers who have made a hard-nosed decision that 5p is a reasonable amount for a bag but would baulk at 10p. It's unlikely there are a significant number of them.
In any case, the single-use bag is already becoming less common. In fact, many larger retailers have completely scrapped single-use bags altogether, moving to multi-use bags to help customers. It's hard to see what the point of this is beyond garnering headlines.
The retail industry is making enormous strides in tackling the issue of plastic waste. Our customers constantly raise it as a priority, and therefore we're determined to play our part in reducing our reliance on single use plastics. Recent examples of where retailers have removed plastics from shelves include cutlery, crockery, straws and drinks stirrers, eliminating polystyrene and PVC from food packaging, selling tomatoes on cardboard trays rather than plastic ones and allowing customers to use their own containers at meat and fish counters.
What we need for government is a clear strategic vision. Instead of endlessly flitting from issue to issue, we need to see leadership on a comprehensive response. Increasing carrier bag charges by 5p is unlikely to make much difference one way or another. It's the big picture retailers want to see, not the individual jigsaw pieces.
Tagged Association for the Protection of Rural Scotland, Scottish Retail Consortium