Nine in a row: SAICA scoops supplier award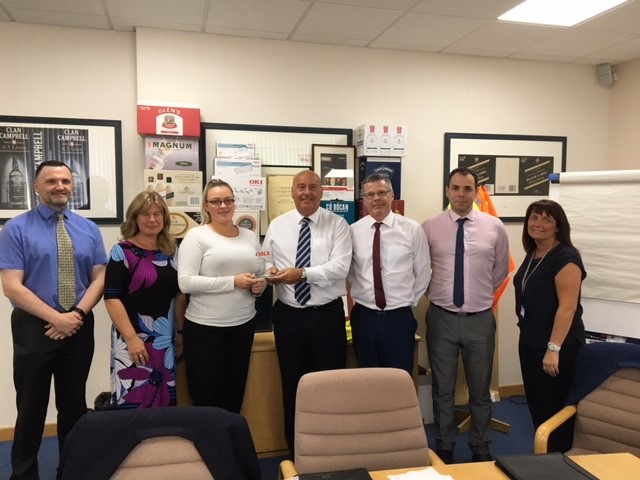 SAICA Pack has won the 'Best Overall Supplier' prize at printer manufacturer OKI's annual supplier awards for a record ninth successive year.
Senior figures from the OKI management team recently visited SAICA's Milngavie plant to officially present the award. SAICA said the firm is hopeful the successful streak will continue and, as the first quarter of 2018/19 closed, the business secured first place in the OKI supplier league tables.
John Dixon, SAICA's business development manager said, "We are thrilled to have been acknowledged by OKI for our supplier service. To be recognise for the ninth consecutive year is an impressive achievement and a result of our strong working relationship, which harnesses collaboration and productive working relationships. SAICA strive to maintain this relationship through continual hard work delivering unparalleled customer service."
Scott Thomson, operations manager at OKI UK added, "SAICA continue to offer OKI first class support across our business. They provide a consistently high-quality service, working promptly to deliver on cost and quality every time. The award is intended to acknowledge both SAICA's commercial and cultural success. As a business OKI look forward to continuing our client-supplier relationship and cannot wait to see how our partnership evolves."
Tagged SAICA Pack