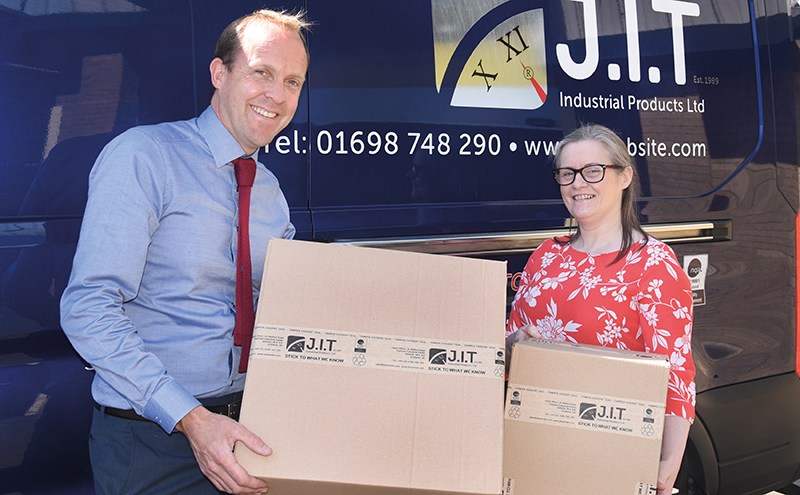 A Bellshill-based supplier of specialist tapes, adhesives and consumables is offering packaging customers printed gummed paper tapes to help reduce their environmental footprint.
J.I.T. industrial Products has been working with a large convertor to import the tapes from Italy. Previously the product was seen as being somewhat cost-prohibitive.
The tapes are described as being fully recyclable, stylish in appearance and feature a tamper-evident seal.
Nigel Fleming, managing director of J.I.T., told Packaging Scotland the business has enjoyed strong growth over the past year in a changing landscape. "We're making sure we're evolving and our products are evolving to meet new demands and applications," Nigel said. "We're offering a benefit, something unique and an advantage. We still offer a wide range of quality packaging tapes, stretch wraps and straps but we've been working with a large convertor and together we import a lot of gummed paper tapes from Italy. We've found a way to offer a cost-effective printed gummed paper tape.
"Gummed paper tapes have been around since the late 1980s/1990s, but by finding a way to print it, we're offering a number of benefits. You've got a tamper-evident seal so you know when the box has been opened. You've got your identity. And you've got the benefit of it being recyclable."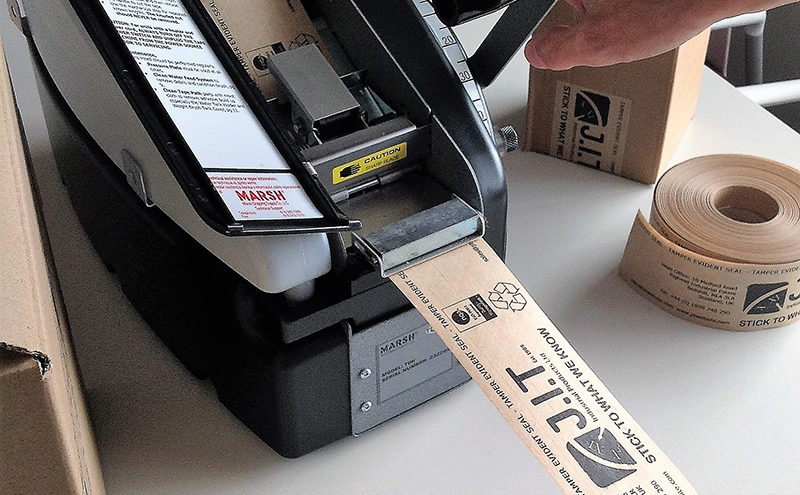 Nigel explained that in the past, the firm's aerospace and defence customers were the primary users of gummed paper tapes, but now that it has been adopted for all the firm's products, the market has opened up. "In the past, gummed paper tape was maybe a bit price prohibitive over a traditional inexpensive filmic packaging tape or printed tape, but per metre it now works out around the same price so people are interested. Gummed paper tapes can be used on automated definite length dispensers but the fully automatic top and bottom taping machines are still in development."
Nigel said feedback on the product has been "very good", with the drinks industry and sectors where traceability and tamper-evidence are important particularly keen to embrace it.
"One of the big whisky distributors has adopted this for higher value items," Nigel explained. "It's going well, we want to promote it a bit more and see where else it can take us. For us, it's about helping people arrive at a really quality assured pack that is safe, transports well and arrives in the condition it left. I'm of the view that if it looks right, chances are it is right. We try to encourage that for everything we send out from here."
With more focus than ever on environmentally friendly products, J.I.T. is also offering customers engineered stretch wrap solutions and polythene. "We've got customers who buy a lot of polythene but where traditionally they've been using a 90 micron, we've brought them down to an engineered 70, so you're getting a good 20-30% extra yield on your roll," Nigel explained. "It's helping them meet their environmental policies. The key is the pack that they're making is no less quality; it's just as strong and does what it was designed to do."
Despite J.I.T. having a strap line of 'Stick to what we know', Nigel said innovating and introducing new products to the marketplace is key to the firm's success.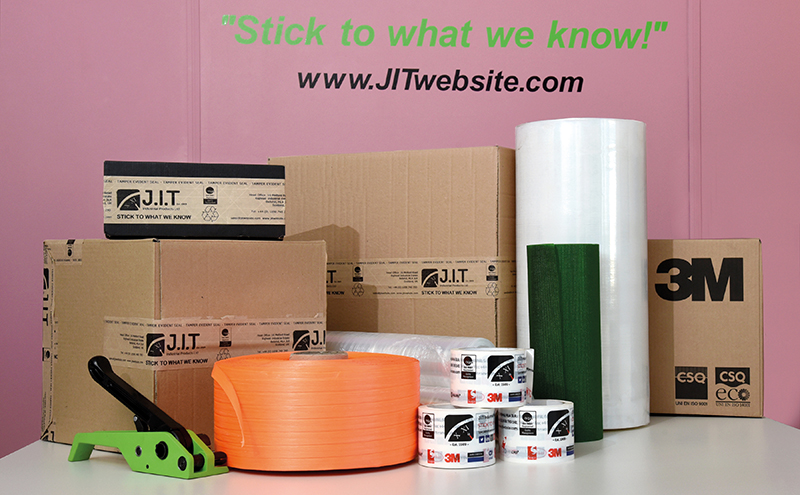 "Every five years you've got to evolve," he said. "It's all about people, it's all about knowledge and it's all about expertise."
J.I.T. turns 30 next year. The business recently invested in a new server and operating system, emphasising Nigel's view that the future looks bright. Despite being an importer from European countries, they haven't been adversely affected by Brexit uncertainty beyond the initial exchange rate fall in the aftermath of the EU Referendum. "If anything we're starting to see a bit of stability," Nigel stated. "We tend to buy very well. It's all about speculative purchasing for ourselves and with our customers."
Looking to the future, Nigel said he's like to see Scotland as a nation invest more in manufacturing and make the most of the talented graduates still streaming out of the nation's universities. "I'd like to attract the right type of companies into Scotland," he explained. "I've got some customers who are producing and manufacturing very well; they're advocates to show it can still be done. The quality and the training is still world class and I would hope in time people felt there was something still to be said for 'made in Scotland' or 'made in Britain'.
"A lot of design aspects are still very strong here and there's a lot of intelligence and knowledge."