New thermoformed pack features intriguing twist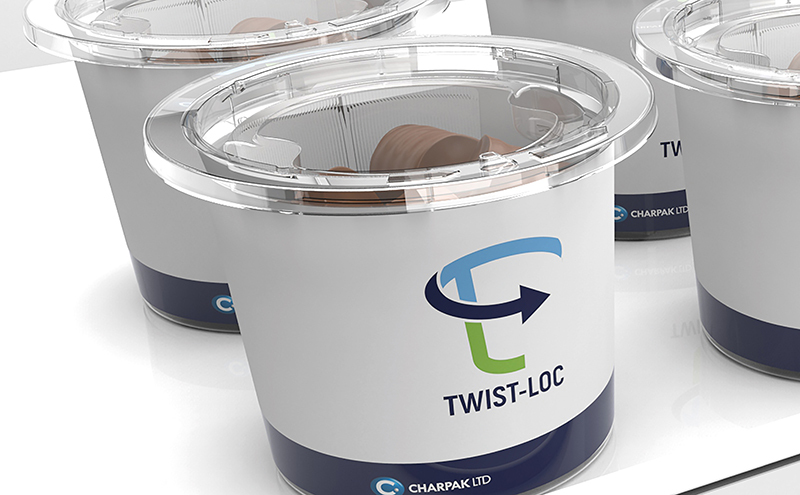 CHARPAK'S green credentials are in evidence with the firm's latest patented innovation Twist-Loc, an rPET thermoformed container which can be used across ambient, chilled or frozen sectors, food and non-food products.
Charpak explained that the new product replaces packaging which has historically been produced in injection moulded PP.

Sales and innovation director Justin Kempson said, "Twist-Loc meets retailer needs for security of product with integral tamper evidence – a first for a thermoformed pack – giving consumers security in the knowledge the food products are pristine for purchase. And, rather than a traditional clip on lid Twist-Loc 'twists closed and locks' which means it is reusable by the consumer, and is not a single-use plastic container.
"Twist-Loc is 100% recyclable and, when the clear version is chosen, it is widely recycled. Containing 75% recycled content, including a minimum of 50% food grade recycled materials, it weighs less than the existing retail packaging. It can be manufactured either as a fully wrapped or labelled product, again aiding recycling. This addresses the sustainability challenge head on and solves a multitude of problems."
Charpak is currently developing a closed loop recycling scheme taking kerbside collected waste and reprocessing this into recycled plastics sheet for reuse in the firm's packaging.
Justin added, "It is vital we create value in the recycle chain, and this is an innovative and collaborative solution to this issue.
"Our aim is to ensure that all future Twist-Loc tubs are made from this circular source, alongside our many other innovative, imaginatively designed products on the market. It is crucial that solutions are not only environmentally friendly, they must also be scalable on a national and international basis."
Tagged Charpak