Biopolymer has "massive" potential
HOPING to turn the tide of both food and packaging waste is Scottish biotechnology company CuanTec, with an innovative new solution using langoustine shells.
Chapelhall-based CuanTec – 'cuan' being Gaelic for 'ocean' – is a spinout of Strathclyde University, which is currently developing a new packaging source using the naturally occurring biopolymer, chitin, which is derived from the shells of crustaceans, insects and fungi.

Traditionally, chitin has been extracted from shells by boiling them in harsh chemicals but now CuanTec claims to have developed a new method that produces a material suitable for food packaging.
"We have created a new process that does away with the traditional chemistry process," Dr Cait Murray-Green, CEO at CuanTec, told Packaging Scotland. "We extract the chitin through biological fermentation."
Chitin, and its more soluble form, chitosan, currently has thousands of uses, explained Cait. They can be used in everything from antimicrobial seed sprays, to clarification of wine, to water purification. They are amazing substances; many, many things can be done with them.
"Other people have tried to put chitin and chitosan into food packaging before. However, if you obtain your chitin through traditional chemistry extraction you end up with a sub quality chitin that has a slightly yellowy tinge. You don't get that clarity, and that is very much unattractive in a packaging.
"There have also been difficulties in getting chitin or chitosan to form an even layer when it's being used in that way. Both are issues that we have solved."
Cait said the company is using the chitin and chitosan it has produced to create food packaging that "literally makes your food last longer" because it is antimicrobial. She claims the film can extend a product's shelf life by 48 hours.
"One of the major benefits of what we create is the fact that it looks and behaves exactly like its petroleum plastic equivalent. We've got 150 formulations and we're taking three or four of them forward. We're at the process of finalising those formulations but our intention is to create something, which creates no difference for the food packaging industry. It IS absolutely clear; it WILL be robust; it WILL seal in the same way; it WILL behave in the same way with good durability for cold and for heat. Really, all they have to do is change the source of what they're bringing in."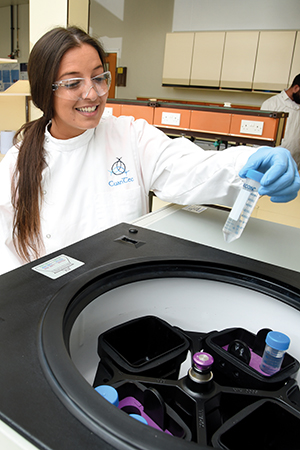 CuanTec currently has three prototypes it is taking forward, where its chitosan is being used for film packaging, with Cait hopeful the company will have a product to sell next year.
"We're assisting the solving of the food waste problem by using food waste to prevent creation of further food waste and because what we have created is natural and it is compostable.
"Everything in it is food quality and a lot of it comes from food waste. It breaks down quickly and naturally in the environment and becomes feedstuff for plant life, but also if a cow eats it or a whale eats it, they're not going to come to any harm; so we are solving the problem of plastic pollution as well."
Cait said the reaction to CuanTec from the public and other companies and organisations had been overwhelmingly positive. "We cannot go though a day, certainly not a week, without being contacted from globally dispersed companies looking for our packaging, and I only wish it was ready today to be able to sell it to them.
"We have been contacted by companies in the United States who want to do all sorts of things with our packaging, all of which are possible, we just need a bit of time to make it happen."
The potential for the material is "absolutely massive", Cait concluded.
"It's the second most abundant naturally occurring biopolymer in the world and it really does have the possibility of creating packaging which removes the need to used petroleum-based plastic."
Tagged CuanTec