Highland Spring to trial '100% recycled plastic eco bottle'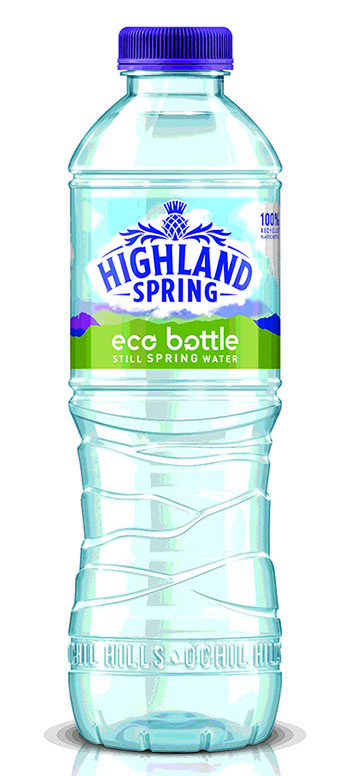 BOTTLED water brand Highland Spring has announced it is to trial a new 100% recycled plastic eco bottle in a bid to "help keep plastic in the circular economy and out of our oceans".
The 500ml Highland Spring eco bottle is being trialled in selected Tesco stores in Scotland, followed by Sainsbury's stores in England.

The bottle features a burst of green colour and a '100% recycled plastic bottle' message, in a bit to differentiate it from other plastic bottles. The bottle itself, is made from 100% recycled plastic, the label and cap are not. However, Highland Spring said they are 100% recyclable.
Shoppers are being invited to give feedback on the launch online or in-store, with the results set to help measure the public's perception of recycled plastics and their reaction to a 100% recycled plastic water bottle, Highland Spring said. These insights will then feed in to category-wide strategies to help eliminate plastic waste.
Simon Oldham, Highland Spring Group commercial director, commented, "Highland Spring is the UK's leading bottled water brand and the trial of this first-in-category 100% recycled plastic eco bottle is part of our commitment to inspiring positive recycling habits amongst shoppers.
"This trial launch, in partnership with Sainsbury's and Tesco, is a significant step in treating plastic as a valuable resource, not waste. We're encouraging shoppers who pick up the bottle to tell us what they think and then recycle it afterwards to help keep the circle of recycled plastics going."