Pack competition helps students get creative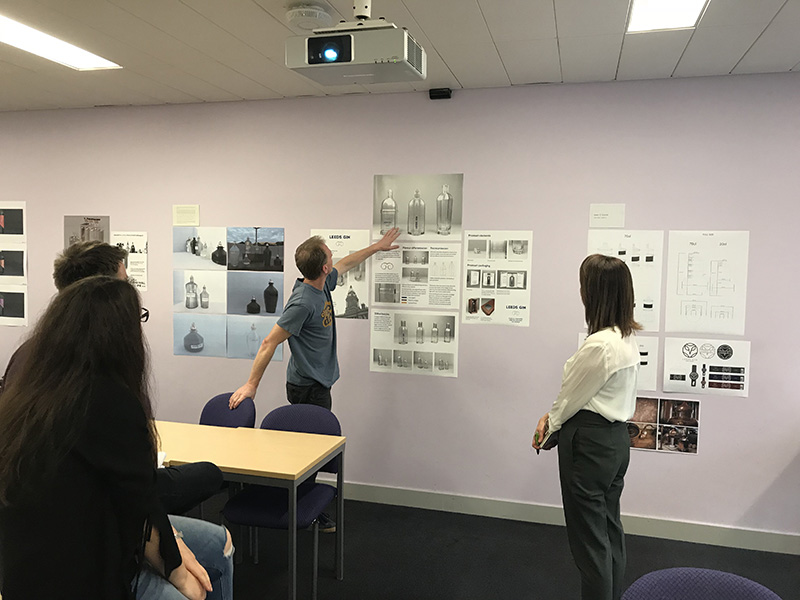 ALLIED Glass was recently at the forefront of a competition to create a premium gin pack for the Leeds Gin Brand.
The firm teamed up with the Retail Institute, Leeds Beckett University and Leeds Gin to run a contest for final year design students, who were given a design brief highlighting current trends in the spirits industry.

The students were tasked with producing a full pack design for two container sizes and three different flavours. The packs had to show differentiation to identify the flavours but also remain recognisable as one brand.
Their work was showcased in front of a judging panel, which included Allied Glass innovation manager Chris Todd. He said, "The level of work created by all the students was impressive, particularly the way each piece of work drew on inspiration from the distilling process and from the city of Leeds itself. It is so important for local, authentic brands to have a sense of place and to tell their story through all their interactions with the consumer including the packaging, it was great to see the students creating an identity with their ideas."
First prize went to Nasos Raptis, whose work drew on the architectural heritage of Leeds Town Hall and the city's Coat of Arms. Chris Todd said, "We were impressed by the amount of time and effort that had clearly gone into the creation of these designs. Nasos has shown an understanding of the standard, better, best principle and demonstrated how to premiumise a pack while maintaining its brand identity.
"His design met the brief entirely, presenting us with a range of designs that reflected traditional gin with iconic Leeds architecture expressed in the design and logo. He has shown a clear understanding of how to premiumise packaging, not only creating the primary pack but also secondary packaging that would be used for the more premium presentation propositions."
The runner-up, James Pollock, created a design inspired by the distilling process, which combined rose gold and copper print effects.
Tagged Allied Glass