UK businesses join Plastics Pact to end "scourge" of single-use packaging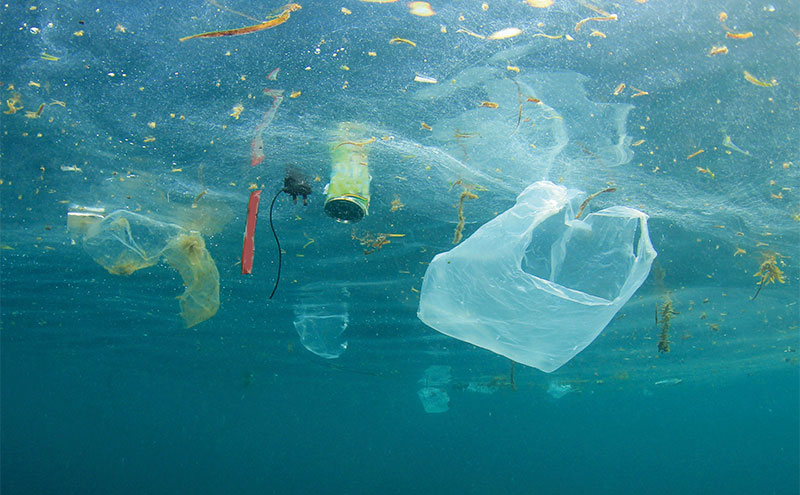 Resource efficiency organisation WRAP has launched the UK Plastics Pact in a bid to make unnecessary single-use plastic packaging a thing of the past.
WRAP has called the Pact a "unique collaboration which brings together businesses from across the entire plastics value chain with UK governments and NGOs to tackle the scourge of plastic waste".
42 businesses – from major food, drink and non-food brands, manufacturers and retailers to packaging suppliers and plastic reprocessors – have made all made a commitment to the initiative. The Pact members responsible for over 80% of the plastic packaging on products sold through UK supermarkets, WRAP claims.
The collective has committed to hit a series of "ambitious" targets by 2025.
Eliminate problematic or unnecessary single-use plastic packaging through redesign, innovation or alternative (re-use) delivery models.
100% of plastic to be reusable, recyclable or compostable.
70% of plastic packaging effectively recycled or composted.
30% average recycled content across all plastic packaging.
The first of its kind in the world, the UK Plastics Pact is to be replicated in other countries with the aim of forming a "powerful global movement for change" as part of the Ellen MacArthur Foundation's New Plastics Economy initiative.
WRAP CEO, Marcus Gover, said, "Together, we have a once-in-a-lifetime opportunity to rethink and reshape the future of plastic so that we retain its value, and curtail the damage plastic waste wreaks on our planet. This requires a wholescale transformation of the plastics system and can only be achieved by bringing together all links in the chain under a shared commitment to act.
"That is what makes the UK Plastics Pact unique. It unites every body, business and organisation with a will to act on plastic pollution. We will never have a better time to act, and together we can."
Ellen MacArthur, founder of the Ellen MacArthur Foundation, said, "We are delighted to launch this pioneering national implementation initiative with WRAP in the UK. This bold new pact will bring together businesses, policymakers and the public to create a circular economy for plastics that tackles the causes of plastics waste and pollution, not just the symptoms. Focussing on innovation, better packaging design and end-of-use systems will not only generate long-term benefits for the environment, but is also a huge economic opportunity. We encourage others around the world to help drive this momentum towards finding global solutions to what is a global problem."
Environment Secretary, Michael Gove, said, "Our ambition to eliminate avoidable plastic waste will only be realised if government, businesses and the public work together. Industry action can prevent excess plastic reaching our supermarket shelves in the first place.
"I am delighted to see so many businesses sign up to this pact and I hope others will soon follow suit."
The Environmental Services Association (ESA) has announced its support for the Pact. Executive director, Jacob Hayler, said, "ESA has long been calling for improvements in packaging design and ensuring that materials collected for recycling have strong end markets supported by greater use of recycled content in new packaging and products. We are therefore delighted to support the Plastics Pact, which is extremely timely, given increased public concern about plastics leaking into the environment and the sustainable use of plastics."
"The targets set in the Pact are hugely ambitious and will require the whole supply chain working together constructively, with a clear plan for doing so, while complementing any legislative changes likely to feature in Defra's forthcoming Resources & Waste Strategy. For the Pact to be successful it needs to deliver meaningful, tangible actions and ESA will support the Pact in this regard."
British Plastics Federation, Director of Plastics and Flexible Packaging, Barry Turner, said, "The British Plastics Federation is delighted to support The UK Plastics Pact. We are committed to playing our part in leaving the environment in a better state for future generations. We look forward to providing industry expertise while continuing to develop the BPF's Marine Litter Platform, with its objective of stopping plastic waste entering our oceans."
Sian Sutherland, co-founder of campaign group A Plastic Planet, said, "The launch of the UK Plastics Pact represents a huge step forward in the fight to end the scourge of plastic pollution. Britain's businesses wield huge power when it comes to dictating our relationship with plastic. It's right that UK plc has come together to vow to address the devastating impact of plastic pollution in food and drink.
"The Plastics Pact represents a positive first step, but in some areas it's clear it doesn't go far enough. Recycling is often touted as the answer to the packaging crisis, yet plastic will almost always end up in the environment sooner or later. Most plastic can only be recycled a handful of times before it becomes unusable. We've been able to recycle plastic for decades yet there is now an estimated 6.3 billion tonnes of plastic waste somewhere on our planet – in our soil, in our oceans, in our air. Plastic is everywhere and we must do everything possible to slow down its production.
"The Plastics Pact has set out a host of targets to be achieved by 2025, but we can't afford to wait that long before doing something about the plastic crisis. How many more millions of tonnes of plastic detritus will be dumped in our oceans and our fields over the next seven years? Plastic-free solutions are ready to go now."
Tobias Wagner, vice president and senior analyst at Moody's, commented, "More companies are committing to the use of sustainable packaging and pressure to improve plastic packaging recycling increases. Most plastic packaging manufacturers take sustainability into account when designing products in collaboration with their customers.
"However, further work needs to be done to ultimately achieve higher recycling rates and avoid substitution by other forms of packaging. There could be margin or cash flow pressure if plastic packaging manufacturers' costs for the transition to more sustainable plastic packaging are not shared with customers."