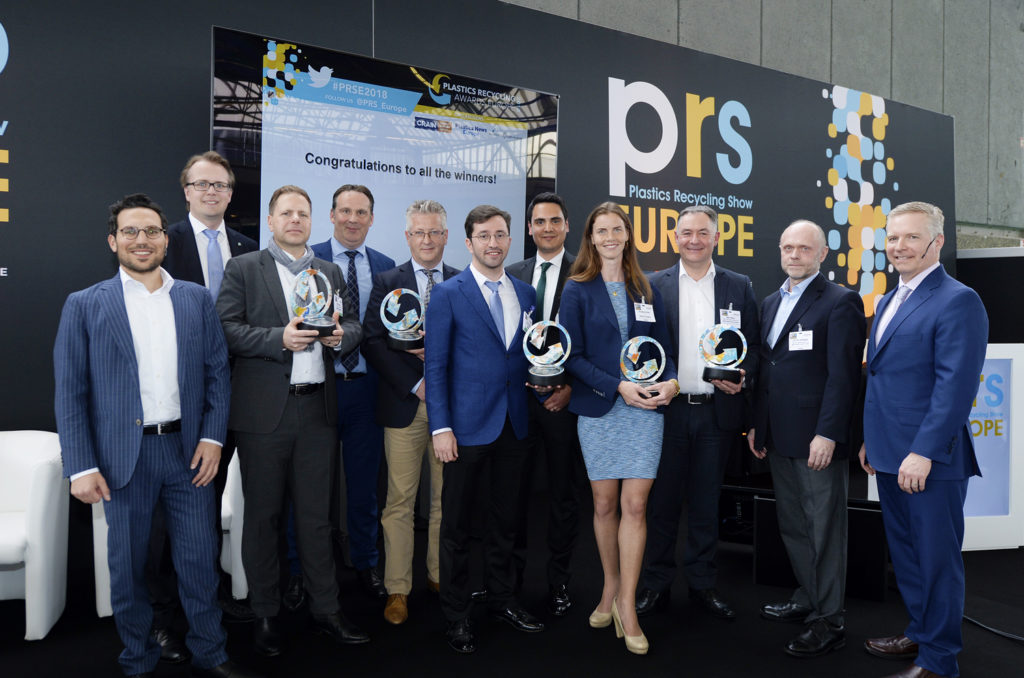 THE inaugural winners of the Plastics Recycling Awards Europe have been announced at the Plastics Recycling Show Europe, held at the RAI Amsterdam.
The five award winners were:
Plastics Recycling Ambassador of the Year – Willemijn Peeters, Ocean Ambassador and Founder, Searious Business
Building & Construction Product – Beaulex®, rainwater buffers, DS Smith Plastics
Recycled Plastic Consumer Lifestyle Product of the Year – Grundig vacuum cleaner made from WEEE recycled plastics, Arçelik A.Ş
Recycled Plastic Packaging Product – Systalen PRIMUS HDPE regranulates, Der Grüne Punkt – Duales System Deutschland GmbH
Technology Innovation in Plastics Recycling – BarrierPack Recyclable, functional and recyclable PE-based laminatepackaging, Mondi
"The Plastics Recycling Awards Europe winners have each successfully demonstrated how passion, innovation, ingenuity and determination can achieve practical, commercial and successful advances in plastics recycling," said Ton Emans, awards judge and president of Plastics Recyclers Europe (PRE). "The very high standard and number of entries we received for each category is testament to the growing range of consumer and industrial applications in which recycled plastics and recycling technology are being used. They are making a huge contribution towards conserving resources, reducing CO2 and sustaining the circular economy."
The winners each received a trophy designed by the Better Future Factory. The base is 3D printed from 100% recycled ABS plastic car dashboards, while the top is laser cut from compressed HDPE beach clean-up bottle caps.
"Willemijn Peeters, has put the full force of her personality and very considerable capabilities into establishing an initiative to prevent plastics from ending up in the environment, by helping businesses implement more sustainable ways of producing and distributing goods," said Ton Emans. "She has done this by herself, not as part of a larger organisation. That takes courage, conviction and commitment, which she has shown and which is why she was unanimously voted ambassador of the year."
Fellow judge Karen Laird, editor of Plastics News Europe added, "Beaulex are an excellent example of how a good idea, clever design and recycled plastics can come together in a construction product that is perfectly suited for its purpose."
The Beaulex balls replace the use of old tyres for rainwater buffering systems under hardened surfaces and can be dug up and recycled again.
The Grundig vacuum cleaner is an initiative from Arçelik A.Ş. Used appliances collected from customers are delivered back to Arçelik's two licensed Waste Electrical and Electronic Equipment (WEEE) recycling facilities, where they are disassembled for sustainable recycling and used to help manufacture new products. "The wonderful thing about this vacuum cleaner is that it looks like any other: shiny and functional, having the same properties as any other product made out of virgin plastics," said Ton Emans. "This ultimately is exactly how it should be: customers buy it because it cleans the house, not necessarily because they want to demonstrate how greenthey are by buying recycled."
The Systalen PRIMUS HDPE is a bottle made from recycled HDPE material. Karen Laird said, "The recycled Systalen PRIMUS HDPE bottle has been used to package Emsal Parkett cleaning agent since 2016, and Emsal Vinyl since 2017. This is a winner because it is a real advance that has been successfully implemented."
Mondi has developed a PE-based BarrierPack Recyclable flexible packaging material that is fully recyclable and described as "still offering exceptional mechanical properties". Karen Laird explained, "This is an extremely important step forwards in the development of barrier packaging materials."