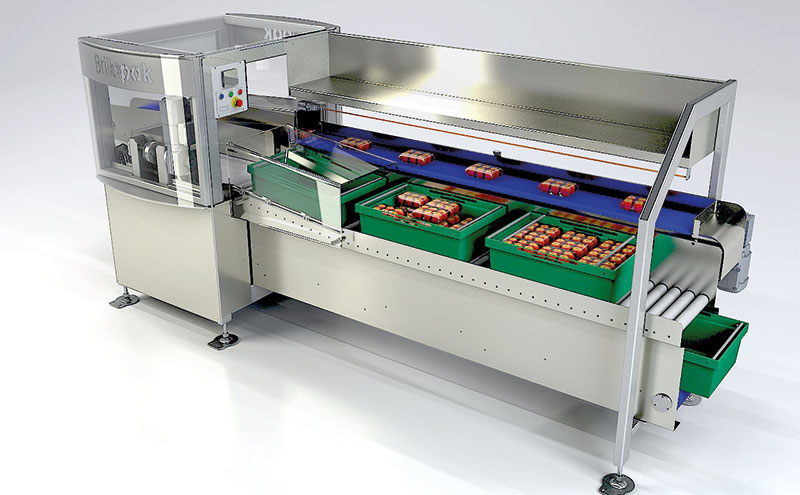 Brillopak director David Jahn extols the benefits of semi-automated packing systems
APPLYING robotics to a case packing process may well make a sound business case, but it might not always be the optimum solution when there are multiple SKUs and numerous packs of different shapes and sizes to factor in, cautions Brillopak director David Jahn.
This may sound like an oxymoron statement for an automation specialist to make. Yet the company, which this year has built and installed eight C130 semi automated packing stations, says it has observed a number of instances in packhouse environments where leaping into full automation might actually be detrimental to efficiency.
"Most packhouses today have to improve efficiency to survive, yet many are also contracted to pack for multiple retailers and have to contend with frequent product changeovers," David said. "Line efficiency is predicated on the ability to run production lines at the highest speed possible with minimal downtime. And it is the machine downtime that trashes efficiency."
While cranking up an automated machine can boost line throughput during a shift, increasing line speed from 35 to 60 packs a minute is pointless if 10 minutes or more every hour is lost through stoppages because people or machines further up the process cannot keep up. As a result something breaks, a bottleneck occurs and the line stops. At the same time presentation quality suffers.
"Although the impact of a two minute machine stoppage may go unnoticed, repeated eight times over the course of an hour results in over 160 minutes of lost productivity over a typical 10 hour shift," David added.
Brillopak's ergonomic C130 semi-automated packer is said to be designed specifically to maximise the efficiency of manual packing operations where full automation is not an option, either by way of affordability or practicality.
David explained, "Many contract packers have one or more packing lines dedicated to loading multiple SKUs into trays and containers during the course of every shift, and many of these products come in different shapes and sizes."  The number of product changeovers and the variation in shape and size of product can mean that automation with consistency is not an option.
Whilst we are taught that accumulation is a good thing, there are times when it can actually have a negative impact on efficiency and ultimate throughput. David argues that rotary tables are a perfect example of this, where packing speed is typically dictated by the operative rather than the packhouse. This is because an operator can decide how quickly they pick and place products into a container.
For packhouses using 'Lazy Susan' round tables, frequent line stoppages due to people getting distracted by product accumulations, can be a constant challenge. Product damage also increases the more it bumps around conveyors and turntables, report Brillopak customers.
To counteract this, Brillopak said its C130 packstation is ergonomically designed to feed an operator product at the right height in the right orientation for them to pack at the optimum speed. This means that they can load products into cases at a consistent pace and comfortably keep up. "We found that by removing the potential of distracting product accumulations, operatives pack at the fastest consistent speed, regardless of the number of product changeovers per shift," David said.
With one operator focused on packing, a second operator is tasked with delivering crates to the line. This is done at the rear of the machine to minimise clutter and maximise efficiency. Because the crates are accumulated, this second operative can potentially load crates and two lines concurrently.
The empty crates are presented to the packing operative in the same orientation as the product, mitigating repetitive strain caused by twisting and turning. Each system features its own control panel – a colour touchscreen HMI – enabling the operative to control the speed in which product is presented for packing.
Brillopak said payback for the C130 semi-automated packing station is usually 15 months or less. "We've learned from our customers that it is not how fast you pack, but how consistently you pack over a given period of time," emphasised David. "Typically, the more consistently you pack at a lower speed, the more products you actually pack onto a pallet at the end of a shift."