£1m R&D grant for Dumfries films business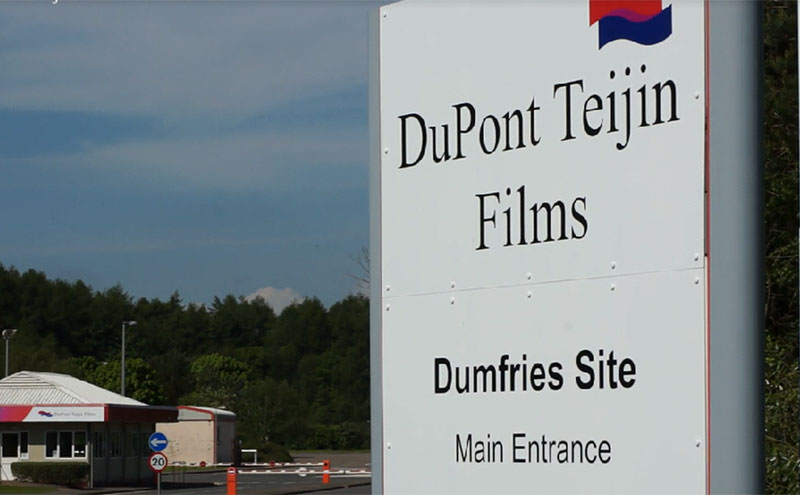 A Dumfries-based producer of polyethylene terephthalate films has received a near £1 million research & development grant from Scottish Enterprise.
DuPont Teijin Films will use the £967,955 Enterprise funding to increase its manufacturing capabilities at its Drungans site, enabling the company to expand into new "high-tech speciality markets".

"The site makes polyethylene terephthalate film for a wide range of speciality industrial and packaging applications. The market sectors we focus on at Dumfries include healthcare, durable cards, flexible electronics, digital print and labels and speciality packaging," explained site & operations manager Moray Mackenzie.
"The Dumfries site comprises 3 film lines and a specialty polymer plant with one of the film lines dedicated to packaging film."
Moray added, "Our packaging films have been developed to address demanding technical challenges. For example, they represent the industry standard in ink adhesion and we are the world leader in dual ovenable heat sealable films."
Speaking on receiving the funding from Scottish Enterprise, Moray said, "We welcome this R&D grant from Scottish Enterprise, which has been key in helping secure an important investment for the Dumfries site. We have a track record of successful new product and market development, winning three Queen's Awards for Innovation. This development is a further example of us looking to do something quite different.
"The R&D grant is focused on introducing new polymer and film capabilities to the site focused on high-tech specialty markets across Europe and the US."
Silvio Clemente, head of company growth at Scottish Enterprise, commented, "With our support, DuPont Teijin's R&D investment will see further development of its existing production lines and the development of new product opportunities.
"We wish the team every success with this latest R&D project and we'll continuing to work with the company as it strengthens its local presence in Dumfries and explores international business opportunities for growth."
Tagged DuPont Teijin Films