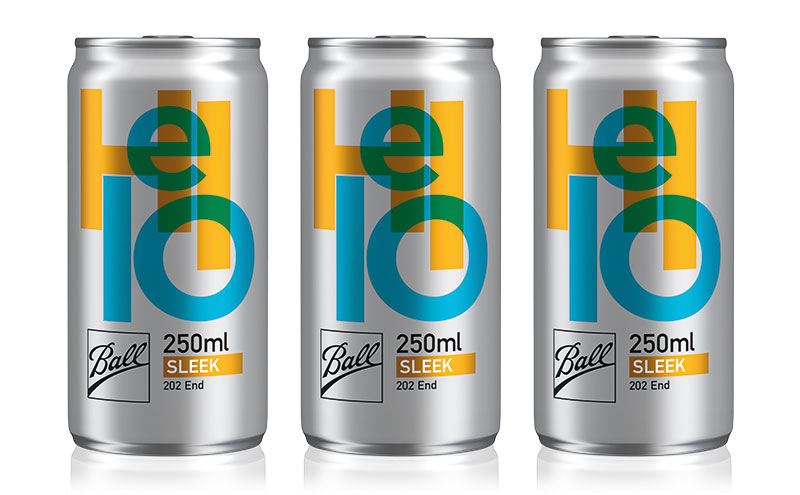 Ana Neale, marketing director at Ball Corporation, explains how to get your products noticed on the shelf against competitors
The individualisation trend in the beverage packaging sector
At Ball Beverage Packaging Europe, one of the most recent trends seen in the beverage packaging sector is product individualisation. Ball customers increasingly want to stand out on shelf and offer creative packaging solutions which can be customised to their needs. "Packs with good sensory appeal help to create desirable packaging that seductively attracts consumers, featuring unique shapes, bright colors, or surface texture, which improves shelf presence in a cluttered market, and entices consumers to pick up the pack for a closer look" (Global Data, Adding Value Through Packaging, 2017).
Brands continue to look for more innovative, disruptive ways to engage consumers, incorporating packaging and branding into more interactive marketing mechanics. Ball understands that cans are more than just beverage "containers". The can, with its customisation potential, provides an opportunity to communicate the brand personality through innovation in can shape, size, colour and ink coating.
Why the right design/shape is essential
On today's crowded shelves, and with shoppers now making 90% of their choices at the point of purchase, the importance of 'standing out from the pack' is critical. Ball recognises that customers need to stand out against an ever-saturated market and as a result, offers an array of options to differentiate cans in a unique way. With over 20 different sizes, Ball offers a can size for every occasion. From standard to King can sizes, Ball also offers untraditional sizes and shapes such as its aluminum bottles. The breakthrough aluminum bottles were developed to offer a lightweight and sophisticated packaging solution for customers wanting to increase product differentiation and open up premium consumption channels for their brand(s).
Ball has also recently introduced three new can sizes in response to international market trends including a 25-centiliter Sleek®, 45-centiliter super Sleek®can and a 90-centiliter King can. Both the 90-centiliter King and 45-centiliter super Sleek®cans have been launched in Russia, bringing to the market an effective packaging solution addressing the recent market pressures on excise duties to alcohol. Launching in Western Europe after Drinktec, the new aluminum 25-centiliter Sleek® can with its 202 end has been designed to make it easier for filling locations to adopt the Sleek® can.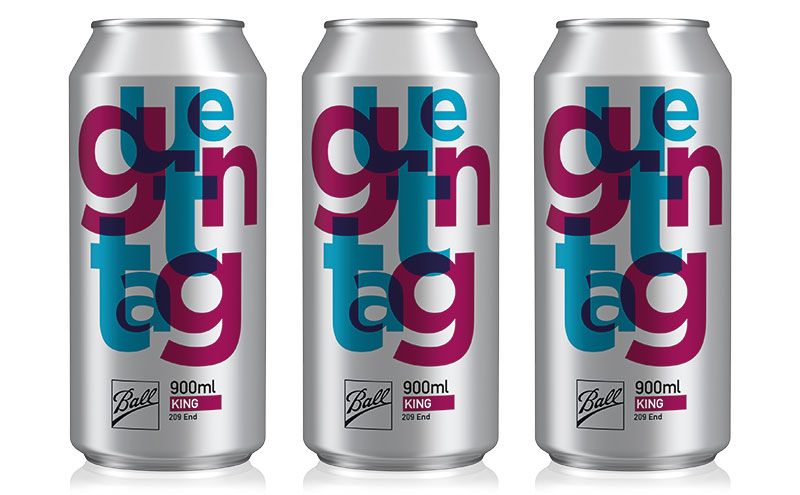 Ball has seen a significant shift towards slim and sleek can sizes in the last few months. Customers are moving away from the standard 33cl format to other alternatives in the beverage canning range, such as the sleek and slim formats. The choice of can for energy drink brands, Sleek® cans have a modern look and are becoming increasingly popular amongst a number of health and wellness brands. Furthermore, the slender silhouette of these cans creates that on-shelf differentiation brands desire.
Cans offer a full 360-degree canvas for a brand to communicate and with this, design becomes essential. Ball offers dynamic inks and finishes to match the needs and requirements of their customers. Design can go far beyond just artwork on a can. Special effects capabilities now see results such as glow in the dark and thermochromic inks which change colour when reaching optimum drinking temperatures. Such options create interesting opportunities for design creativity where colors and designs can combine to entice shoppers.
Example of craft beer in can
As the market becomes more competitive, particularly in the craft beer segment, smaller brands must work increasingly harder to ensure visibility in an ever-growing market.
Craft beer has seen a surge in popularity, meaning that individual brands are becoming more creative in their approach. For example, Croatian craft brewer Garden Brewery has chosen a can design which focuses on strong single colours, geometric shapes and illustrations depicting Croatian landscapes, with a matte finish to maintain an authentic, craft feel. For Norwegian craft brewer Lervig Aktiebryggeri, the can design reflects the premium, yet classic feel of the beer using various two-tone combinations against a silver background, displaying traditional Norwegian characters such as Vikings and fishermen.
Untraditional beverages in cans
Ball has also noted that categories such as water, wine and tea are increasingly opting for new packaging solutions.
Water in a can provides a sustainable packaging solution that is simple yet effective. CanO water is an example of a brand that has taken this step into the unfamiliar and produced water in simple aluminum can. "CanO Water was created in response to the damaging impact that plastic bottles have on the environment and offers a highly recyclable alternative" states co-founder Ariel Booker. Packaged water has also seen a 6% increase in volumes in Q2-17 with both still and carbonated both growing (Global Data, Beverage Forecasts 2017).