Perfect Part'ners
PROMOTIONAL FEATURE
Changeparts firm Zept Technologies UK looks to build on a strong reputation of technical knowledge and customer service

ORIGINALLY founded by Canadian engineer Frank Zepf, Cumbernauld-based designer and manufacturer of container handling changepart systems, Zepf Technologies UK, as it is today, was born in 1994 after being acquired by global drinks giant Diageo.
The company attributes its growth over its distinguished history to having built a strong reputation, thanks to an ethos of second to none customer service and constant innovation. Zepf UK services a diverse range of sectors worldwide from food and drink, to personal care, oils, pharmaceuticals, cleaning products and aerosols.
"We take great pride in the technical solutions that we provide customers," explained Les Aitken, General Manager. "Customers come to us with a variety of challenging applications and our ability to overcome them is certainly one of our selling features. All of the team are focused on delivering the optimum technical solution."
Zepf's container handling system solutions offer a range of benefits including a reduction in changeover times, improved health & safety and a reduction in maintenance.
Its diverse product offering ranges from traditional standard parts to it's groundbreaking 'Core and RACOP' (RApid ChangeOver Parts) quick release changepart system, which facilitates a significant reduction in changeover time and can help support lean manufacturing initiatives. The company also introduced its patented multi-position changeparts five years ago, which Les described as an "evolutionary step in machine flexibility".
He explained, "Customers are constantly striving to reduce their changeover time in order to maximise on efficiency and capacity, they're constantly looking for ways where they can minimise the impact that a change of product has on their production lines. The 2 and 3-position parts are the ultimate product for this because not only do they not have to remove the parts from the line, if the application suits then they can make a simple adjustment and start running on the new product almost seamlessly.
"The design is fully patented by us and we've regularly experienced changeover time reductions of greater than 85%."
Les highlighted that one of Zepf's biggest customers had adopted the multi-position changeparts as their standard "because they realise a real competitive advantage in terms of reduction in changeover time, reduction in weight, reduction in storage and ultimately a reduction in the lifetime costs associated with those parts".
He continued, "We service global customers but we also service the smaller, more craft-based packaging organisations. We've got a product offering that will suit the specific needs of each and every customer."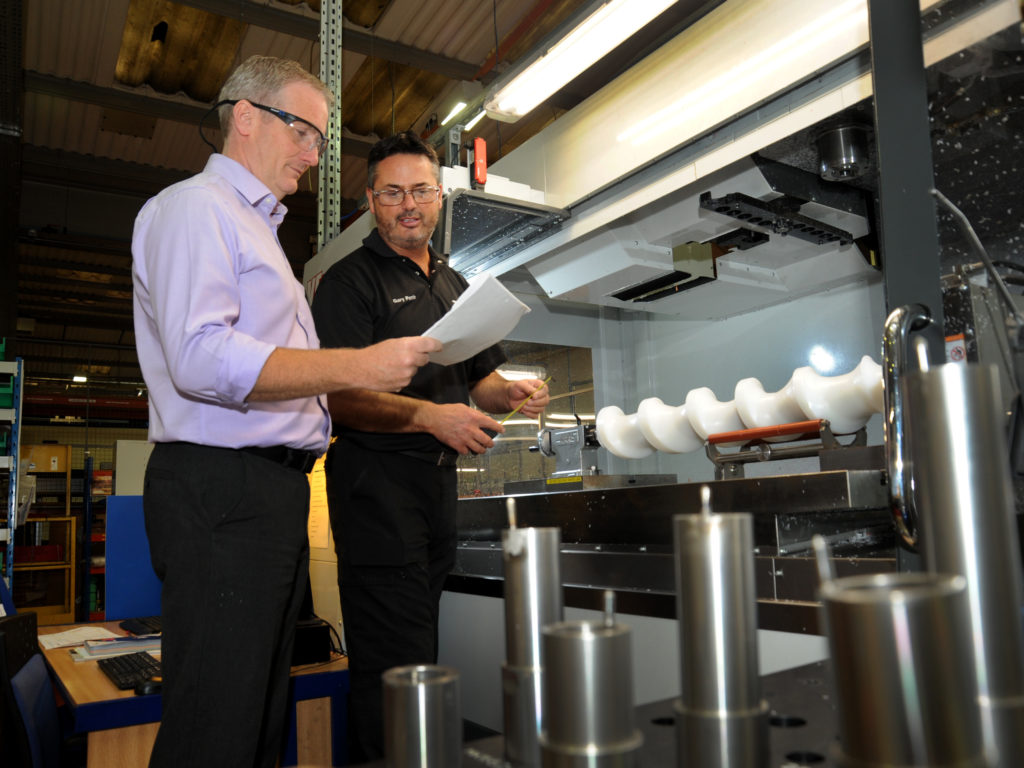 Speaking on what makes Zepf stand out, Les said, "The products speak for themselves. When we are provided with the opportunity to showcase them; people are genuinely impressed.
"The technology and the knowledge we've developed in Design & Manufacturing is second to none, couple that with our sales and customer service philosophy and I'm convinced we add real value to all of our customers."
Zepf Technologies' Cumbernauld base comprises a team of 38, which includes eleven designers, five service engineers and administrative and workshop personnel. With an average length of service of over ten years and the company's longest serving employee, design team leader Tim Povey, celebrating 25 years service this year, the company has a strong technical knowledgebase, which is also being complemented by apprenticeships.
Les said, "It is really important that at Zepf we develop the skills and knowledge of our own employees. This leads to staff retention, career progression and ultimately great continuity for our customers. It also allows us to plan ahead for succession in a sector that is hard to locate fully trained staff for."
At the heart of the business is strong customer relationships, some of which span well over a decade. Les added, "We absolutely realise that customer service is a real key for our success and the relationship we have with our customers is very important to us. Our customers have direct access to the technical experts that actually design their parts; this has helped build a deep understanding of each and every application and has resulted in great partnerships lasting many years."