Awards celebrate industry excellence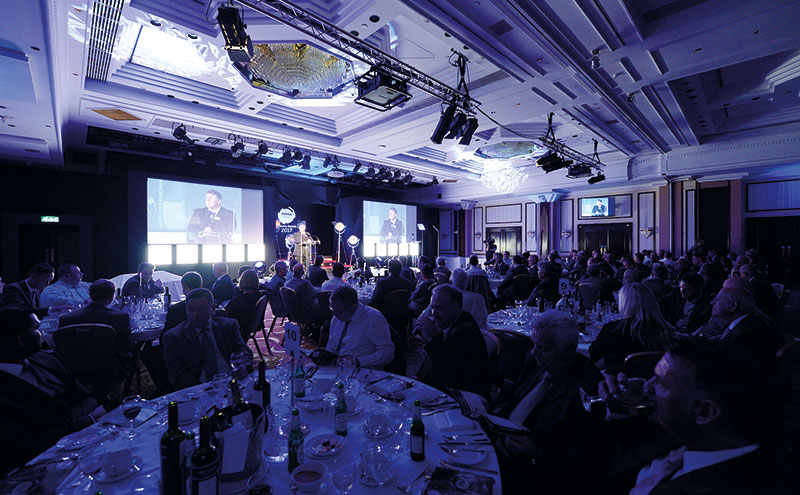 Packaging Scotland's Fraser Rummens reports from the PPMA Group Industry Awards 2017 in Birmingham
OVER 400 of the industry's best and brightest gathered at the National Motorcycle Museum on the first night of the PPMA Show for the PPMA Group Industry Awards.

Now in its sixth year, the awards seek to recognise innovation, smart manufacturing, entrepreneurship and collaboration in the processing and packaging machinery industry, across eleven categories. An independent panel of ten judges made up of industry professionals and academics decided the winners.
The night kicked off with an address from Mark Williamson, chairman of the PPMA Group of Associations, who reflected on the PPMA's 30th anniversary and said the association would be modernising the way it does things "to stay relevant in today's business world".
CEO of the PPMA Group of Associations, Andrew Mint, highlighted the work of the association's charity, PPMA BEST, and its efforts to attract new blood to the industry. Canadian comedian and co-host Stewart Francis took to the stage and delivered a pun-filled routine of deadpan one-liners, with reaction around the room ranging from bewilderment to riotous laughter.
Sky Sports News presenter Hayley McQueen joined Francis to host and it was time to hand out the prizes.
Pacepacker Services took home the first award of the night in the Innovative Packaging Machinery category, followed later in the evening with a second win for Innovative Ancillary Equipment.
Claire Moodie of Packaging Scotland presented the award for Innovative Robotics Solution to OAL, while Industrial Vision Services won Innovative Vision Solution.
Ishida Europe scooped the gong for Innovative Processing System. It was two in a row for Riggs Autopack, which took the award for Exceptional Sales Performance for the second year running.
Nigel Matthews, general manager at Riggs Autopack commented on the win, "For two years on the trot we've won and for a smallish company like ourselves it's quite a big accolade really. We're up against a lot of large companies and it's great recognition of what we're doing.
"It certainly gives us the kudos of winning a national award. There are a lot of members in the PPMA and for us to come out a winner in this category is a major coup for us. We will use this now to tell all our customers and future customers hopefully where we are, what we're doing, new technology we're bringing out; it just raises our profile certainly within our own industry. From winning last year, we noticed a massive spike on our website for months to follow."
Partnership of the Year went to Jenton Dimaco and Starflex Packaging Europe. Dr Russell Sion, managing director at Jenton Dimaco explained, "We've gone into partnership with Starflex who are designers and manufacturers of checkweighers. We've now got what we believe is the first fully integrated label verification and checkweigher system." Russell went on to describe the win as "fantastic".
"It's good for so many reasons; it's good for the team who did it because there's a lot of people worked really hard to do this, it's good that our partners feel a part of it and it's good advertising for us as well so we're really pleased. It's made it for us, I would say."
It was also a good night for Russell Finex, who ended the evening with two awards, Exporter of the Year and the new Environmental Initiative of the Year. Ray Singh, managing director said, "As we grow year on year we're using more energy so it's crucial that we are environmentally responsible. We also have plans to make this a global initiative, rolling it out across our locations in the USA, Belgium, India and China.
"We're a proud member of the PPMA Group and so are over the moon to have won two awards. This is the second year in a row we've come away with Exporter of the Year, which is an area we have been focusing on in order to better service customers and reach new markets."
Apprentice of the Year went to Jake Martin of Yorkshire Packaging Systems, who in only two and a half years has become a "key member" of the firm, with judges recognising his initiative and willingness to take on more responsibility, his ability to work as part of a team and demonstrate leadership potential and his contribution to the company's success. Glyn Johnson, managing director, said, "He's been brilliant because he's only been with us for a couple of years and he was thrown in at the deep end with a big installation… He's technically still an apprentice but he's far from an apprentice, he's pretty much a fully-fledged engineer."
Dave Norris of DC Norris was honoured with the Lifetime Achievement Award for his outstanding contribution to the industry. David said of the win, "I'm lost for words; it's unbelievable to have won this prestigious award after a lifetime in food processing machinery. But it also feels like the beginning for DC Norris – we still have more to conquer. And none of it would be possible without our fantastic team."
Valerio Del Vecchio, head of marketing for the PPMA Group of Associations explained that this year the awards had benefited from simplifying the entry process, which resulted in the highest number of entries ever with 74. The award categories were also streamlined and an independent panel of judged added to the credibility of the process. Valerio also highlighted the importance of the new Environmental Initiative of the Year category, which reflects the importance of green measures in the industry.
Valerio added, "Companies are getting the sense of prestige and there is links to the fairness of the process, the credibility of the process and the credibility of the brand that issues the awards."