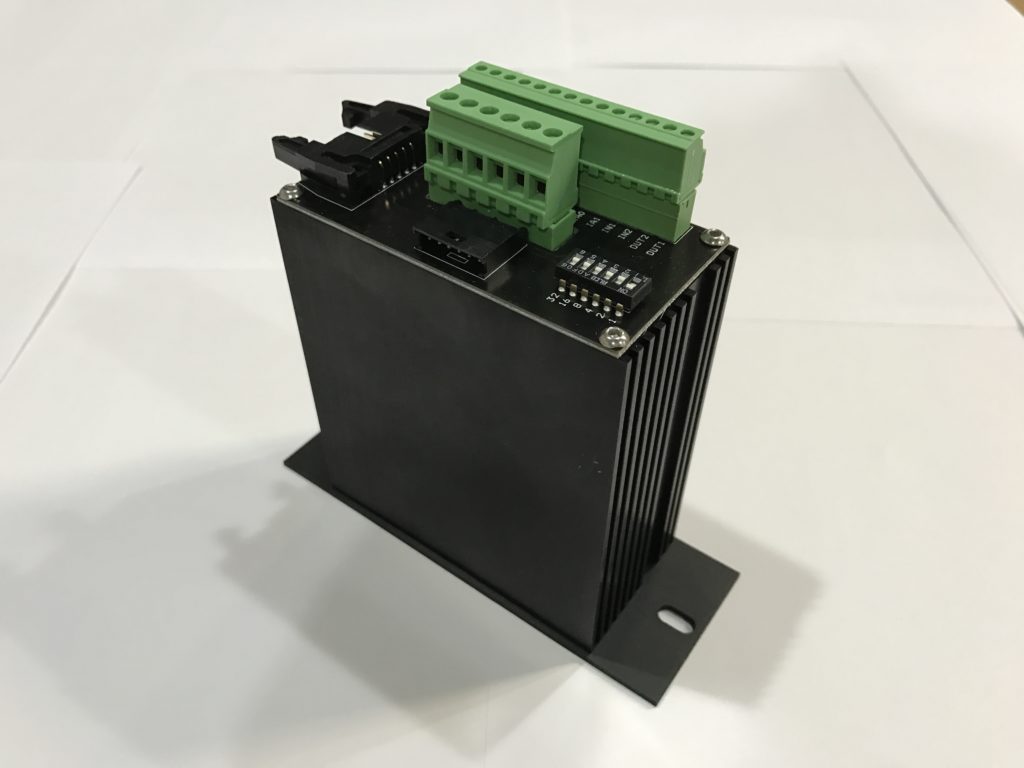 ADVERTORIAL
Thomas Hardy have been one of the most versatile contract bottlers for several years, handling some of the brand leading Beers, Ciders and Soft Drinks at their two production facilities in Burtonwood, Warrington and Kendal in the Lake District. They recently invested in two important upgrades on their Kosme Labelling machine. These upgrades have led to both significant increased performance efficiencies and reliability, coupled with the ability to orientate logoed/embossed bottles to improve product enhancement features.
The bottling line in Kendal is equipped with a Kosme Top Adhesive Labelling machine serial number L033-88. This machine has a table diameter of 1,280mm with 32 bottle platforms, the rotation of which are each separately controlled by individual stepper motors. These steppers motors were controlled by means of a so-called A40 cam card system. Krones UK persuaded Thomas Hardy to invest in a machine upgrade which included the replacement of all 32 of these A40 cam cards with a much-improved A50 version which provides a very robust and moisture-resistant enclosure, and thus results in greater efficiencies and reliability than the previous A40 version.
Following the successful installation and commissioning of this retrofit in Kendal, Thomas Hardy were then awarded the contract to package a premium beverage which necessitated a further investment opportunity on the same Kosme labelling machine, comprising of an optical orientation system to ensure that the front and back labels are correctly applied and aligned to the mould seams of the bottle and a specific embossed logo on the shoulder area of the bottle, centrally above the front body label.
Both Kosme retrofit solutions to this labelling machine fit perfectly to Thomas Hardy's requirements and Mark Heath, Sales Director of Krones UK explains, "Kosme have developed a very accurate optical orientation system, which we can retrofit on virtually every stepper-motor driven Kosme labeller in the market with either the A40 or A50 cam card system. However, Thomas Hardy were persuaded by us to invest in both the optical system and the A50 upgrade during the course of 2016. These retrofits are very attractively-priced and both provide significant return on investment in terms of greater efficiencies and reliability together with opportunities for bottlers to enhance the appearance of their products with precise orientation of labelling to logo embossing and/or mould seam alignment. Both upgrades were made with minimum disruption and have been extremely reliable enhancing the image conveyed by the premium bottle dressing."
Mark continued, "The new optical orientation system, which now "spots" the bottle accurately, allowing for accurate placement of the front and back labels, is also a major benefit to Thomas Hardy and for other customers who require a similar bottle dress. This is a great example of a customer being able to upgrade existing equipment to give them a labelling machine that offers the most up to date technology. It is clearly worth the investment when the machine has been maintained and serviced by our Kosme technicians on a regular basis. We believe that there are a significant number of Kosme Labellers in the UK and Ireland that would benefit from both these upgrades. We are finding that as consumers are looking for premium products, the brand owners' marketing teams are looking at various ways to create a more enhanced final package."
Graham Carlos, Engineering Manager at Thomas Hardy said of these latest upgrades, "The Kosme team came to Kendal when we were making some big investments in our line to add further capability. It was all carefully planned and took only a few days to complete and when the line was up and running again the Kosme labeller was achieving an increased efficiency. It was always a good machine but is now greatly improved. We have about 80% of our clients wanting self-adhesive compared to 20% wet glue, which is oddly enough a mirror image of what we were doing about five years ago. As a co-packer, as opposed to bottling our own brands, it is all about quality and now we can offer a first-class labelling option to our customers."