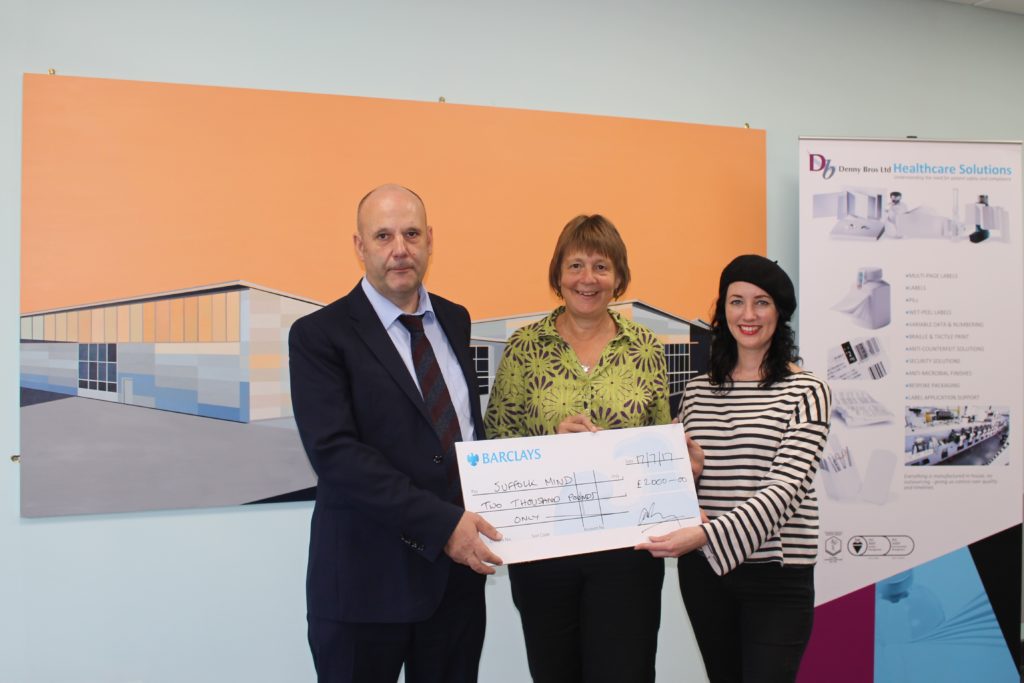 Suffolk-based print firm Denny Bros has teamed up with a leading artist to create two pieces of art as part of a project supporting a local mental health charity.
Artist/musician Kate Jackson was commissioned by Denny Bros to embellish two of walls of its headquarters in Kempson Way, Bury St Edmunds. As part of the project, Denny Bros also donated £2,000 to mental health charity Suffolk Mind.
Graham Denny, managing director, explained, "We have been wanting some relevant artworks to greet people as they arrive at Denny Bros as we have a lot of visitors to our site.
"I knew of Kate through her music and her art. She is particularly known for featuring industrial buildings in her work.
"I saw the sleeve she had designed for the 'Sound of Sugar Town' record featuring the sugar beet factory in Bury St Edmunds and I thought she would be exactly the right artist for us. The art has been very well received and our marketing team has now commissioned Kate for another project helping to design an exhibition stand."
Graham added, "We have wanted some artwork for quite a while and it was great to be able to combine this with the contribution to a mental health charity.
"As a company, we are acutely aware that there can be a lack of suitable resources for those needing support for mental health issues and how vital the work done by charities like Suffolk Mind is for many people. We were keen to do a small bit to help."
Kate produced two pieces – an interpretation of the Denny Bros building in Kempson Way, entitled 'Sunrise over Denny Bros' and another illustrating the firm's printing, entitled 'CMYK YMCK'.
She said, "I was born and bred in the Bury St Edmunds area and I have always been a customer of the shop Denny Bros Supplies (part of the Denny Bros Group) so I was delighted to support them.
"I wanted to produce something that would allow people to see an industrial building in a different way.
"In terms of the second work of art, around the printing press fingerprinting test, I was given a tour of the factory and these colours really caught my eye."
Sue Gray, director of Suffolk Mind, added, "We are delighted to have the support of Denny Bros and Kate Jackson. It is fantastic to have people working together in the community in support of our work."