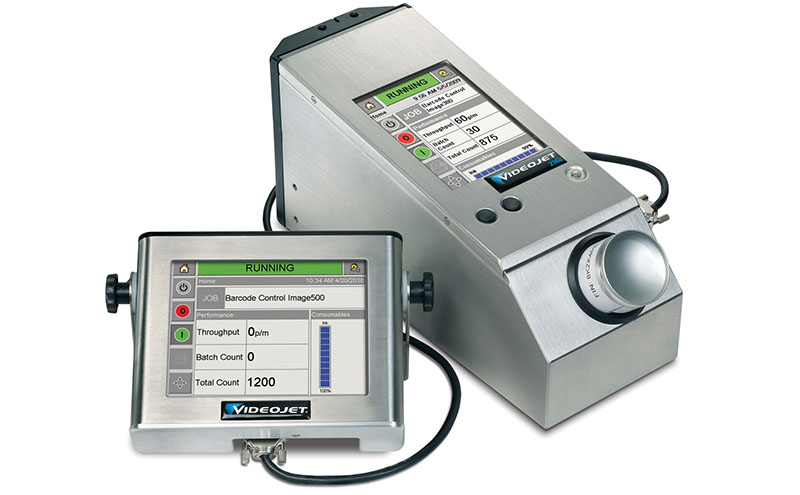 Bob Neagle, global business unit manager for Large Character Marking (LCM) at Videojet Technologies, discusses the benefits of using ink jet technologies for case coding and marking
Q) ARE THERE ANY TRENDS THAT MAKES A SOLID CASE FOR THE USE OF LCM PRINTERS?
A) Consumer Packaged Goods (CPG) firms are becoming increasingly challenged to find avenues of growth in both developed and high growth economies. In the case of north America and western Europe, where GDP growth over the next four years in expected to be in the 2% range, CPG firms have responded by becoming more sophisticated in their customer segmentation.
This in turn leads to new flavours, sizes and packaging form factors to try to exactly match the needs of that very highly defined segment.
This trend has been going on for some time. Consumers have responded to it positively and now demand even more choice, further fuelling SKU proliferation. The rise in on-line retailing further feeds into this trend as the amount of products which can be offered is not bound by the amount of available shelf space.
Brick and mortar retailers respond by having less on the shelf of any one SKU, which then requires faster turnaround in the supply chain.
Developing economies are the primary growth engine for many CPGs, who learned quickly that variances in regional tastes don't allow for the exact same product to be sold broadly across the globe.
Q) WHAT ARE THE MAIN BENEFITS OF LCM?
A) First and foremost it is a digital technology that can be integrated directly into a packaging and logistics operation. This approach provides great flexibility to the manufacturer vs. pre-printed cases. The most typical example where we see LCM used for packaging postponement is for a product that may have five flavours.
The CPG orders one case with the company logos and basic description of the product from their convertor and uses the LCM to print the information specific to the flavour, thereby reducing their number of case SKUs by 80% and providing greater ability to adapt to changes in demand.
There are CPGs that have taken this further and only order a small number of generic cases based on size and use an LCM to print all the product information and even company logos.
The other benefit that should not be forgotten about is the ability to incorporate production related information, such as lot and expiry date, on the case in both human readable and barcode form. With a pre-printed case there is no way, short of exponentially expanding the amount of case SKUs, to include that type of real time information.
Q) WHAT ARE THE MAIN CHALLENGES MANUFACTURERS FACE WITH REGARD TO LCM?
A) Large Character ink-jet printing is a highly reliable technology that can consistently produce scannable barcodes, but it is necessary to keep the printhead, nozzles and ink supply system clean in order to maintain optimum print quality. The Videojet 2300 line simplifies the maintenance process via a patented automated purge function, which blows dirt and debris off the printhead face and clears the individual nozzles while recapturing the purged ink to minimise mess and reduce running costs. Periodic manual cleaning of the printhead and recycle line is still required to maintain peak operation.
Q) WOULD IT BE EASIER FOR MANUFACTUERS TO PRE-PRINT BOXES?
A) On the surface, having someone else do something for you is always "easier" but it doesn't make it the better option. The benefits of flexibility and the costs of managing an outside source of supply have to be brought into the equation and is it easier to operate and maintain an LCM printer than it is to order and store multiple case SKUs is probably open to debate.
Q) WHERE ARE THE HIDDEN COSTS IN PRE-PRINTING BOXES WHEN COMPARED TO LCM?
A) I don't necessarily think the costs are hidden. The cost associated with producing additional flexo plates and shorter press runs are highly tangible. The necessary space to store additional case inventory and the associated administrative costs to order multiple case SKUs is not quite as hard a cost, but most CPGs have a good handle on what that is. Probably the most important, but potentially hardest cost to put an exact number on, is the loss of flexibility. With a digital technology like LCM you can immediately adapt to changes in demand, while with pre-printed cases you may have to wait to fulfill your rush order until your convertor can get you the proper cases.
Q) CAN YOU HIGHLIGHT THE ADVANTAGES OF LCM COMPARED TO OTHER METHODS OF CASE MARKING?
A) The advantages vs. Flexo have already been outlined. Both LCM and Label Print and Apply (LPA) are viable technologies for inline case coding. Each has its own advantages which may make it a better fit for one application vs. another. As LCM prints directly on the case, the cost of the label is eliminated. Also, because LCM is not constrained by the boundary of a label it is advantageous if code information needs to be placed in multiple positions on the case panel.
LPA has two specific advantages:
• Because a barcode is being printed on a white label, you receive much better contrast than LCM (black ink on brown corrugate) leading to higher barcode grade. However it's important to understand the difference between a requirement for a bar code grade vs. scanability. Most retail and supply chain partners only require the code is scannable and as long as it is will never check the grade. However, in the instances where an A or B grade is required you will need to use an LPA.
• A label can be used on nearly any type of packaging substrate, such as shrink wrap, where you could not use an LCM because a bar code printed directly onto a clear surface would not be readable.
High Res LCM printers which are used for bar codes also do not typically perform well on overcoated cases, like those often used in the liquor industry, although Videojet has several suitable offerings for text printing on overcoated cases.