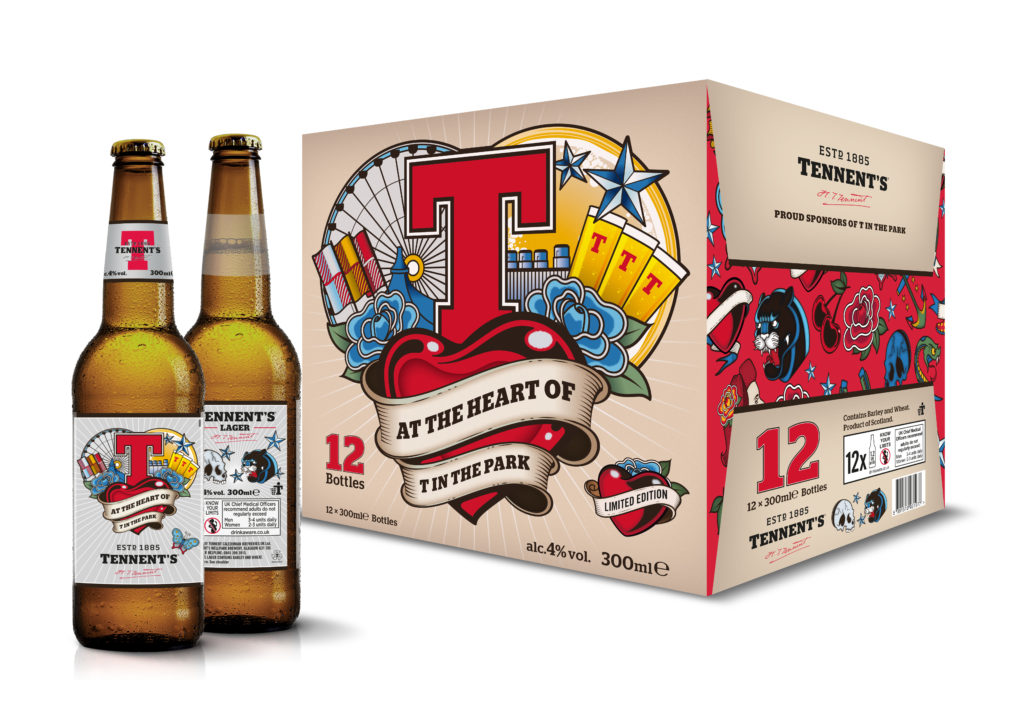 TENNENT'S is celebrating after two of the firm's recently released limited edition bottle packs picked up awards at the European Flexographic Industry Association (EFIA) Awards.
DS Smith produced both of the winning packs, which were designed by Glasgow-based agency D8.
The 'At the Heart of It' pack was launched in support of the T in the Park Festival and won the title for Post Print Coated Line & Screen Gold in the corrugated category. The second pack to win was the 'Tennent's Heritage' pack which won Gold in the Post Print Coated Process award, also in the corrugated category.
Tennent's Heritage Series pack was a 12x330ml bottle pack with designs that drew from the brand's "experience and expertise" of brewing on the same site for almost 500 years. The labels took inspiration from original bottles. 200,000 bottles of the Heritage Series were sold.
The Heritage Pack was launched in February through a digital and PR marketing campaign. Tennent's partnered with the brewing archive at the University of Glasgow to identify rare items of branded memorabilia. Consumers were then challenged to find these items in order to win a free pack.
Alan McGarrie, head of UK brand marketing at Tennent's said, "We are thrilled that our 'At the Heart of It' and 'Heritage Packs' have been recognised by the packaging industry for their innovative design, style and production. Our limited edition bottle packs provide a great platform for us to celebrate the history and character of Tennent's Lager. The work that D8 and DS Smith put into producing these packs for us is fantastic, and ultimately consumers love them when they see the packs on shelves."
Adrian Carroll, creative director at D8 added, "We're proud to be the creative partner of one of Scotland's most famous brands and fortunate that Tennent's Lager has such a rich visual heritage to play with. When it comes to packaging, collaborating with great production teams is really important as we seek to innovate together and set new standards in FMCG design. We're delighted with how the packs look on shelf but what really matters is the way it captured the imagination of consumers and how well it sold."