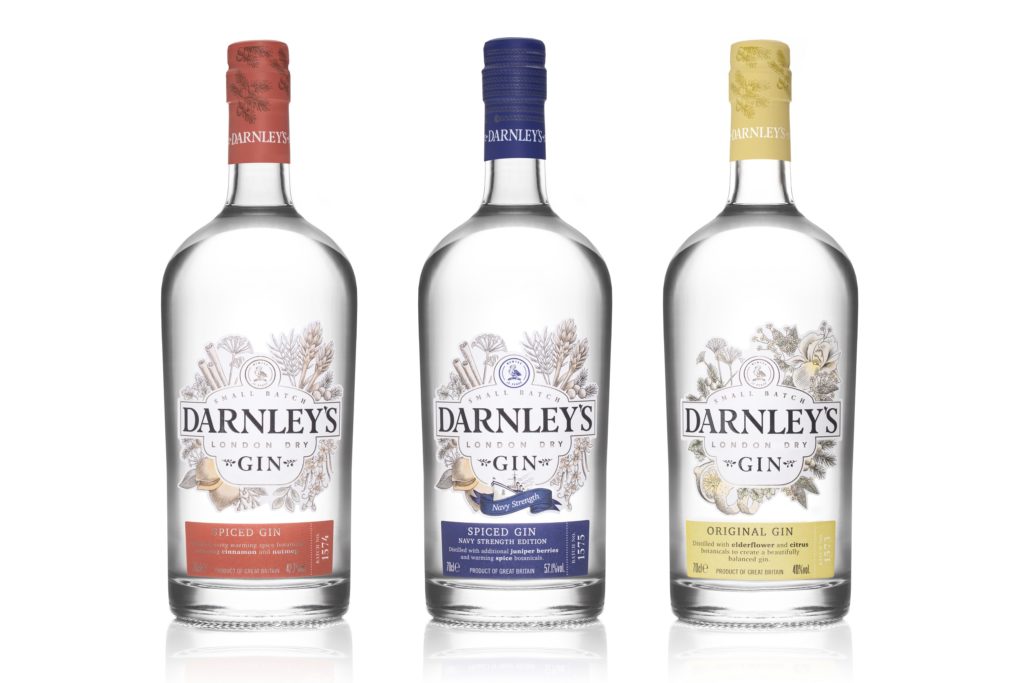 DARNLEY'S View Gin has announced a raft of changes – including brand new packaging – as the brand embarks on a "milestone" year.
Launched in 2010 by Edinburgh-based Wemyss Malts, the brand has been given a new look and a new name – 'Darnley's Gin'. The new packaging features a "rich colour palette" and hand-drawn illustrations to "convey the different botanicals in each expression". 
A new Darnley's Spiced Gin called  'Navy Strength', which has been inspired by the career of Sir Rosslyn Wemyss – an ancestor of the Wemyss family and an Admiral of the Fleet who commanded ships all over the world – has also been unveiled.
The firm has confirmed it is in the final stages of building a new Darnley's Distillery next to its sister whisky distillery at Kingsbarns in the East Neuk of Fife. Currently distilled in London, Darnley's Gin production will move to the new Scottish facility this summer.
William Wemyss, owner and managing director said, 'We felt it was the right time to refresh Darnley's Gin and also to bring production in house, more specifically, home to Fife, where the Wemyss family has lived and worked for centuries. Our links to the whisky industry date back almost two centuries and our foray into producing began back in the 1970s. Investing in the Darnley's Gin portfolio and in being 'made in Scotland' is another bold step in our business story which is driven by an ongoing passion for making the highest quality spirits for people to enjoy. We are all very much looking forward to rolling out our plans for Darnley's Gin and to seeing it flourish in markets around the world in years to come."
Emma Hooper, brand manager added, "This is an incredibly exciting and significant time for Darnley's Gin as we move into the next chapter of our brand story. After six successful years in the category, taking this step to re-imagine our packaging and create a welcoming brand home in Scotland is an evolution that will highlight the exceptional quality of Darnley's Gin, reinforce our spirited heritage, and strengthen our premium position in the market."
The new look Darnley's Gin will be phased into the brand's 23 global markets throughout this year, starting in the UK where it will be available from April in the on-trade and in specialist independent retailers and Majestic Wine.
Glasgow based design agency D8 helped create the new packaging with UK illustrator, Martin Hargreaves, drawing the botanicals.