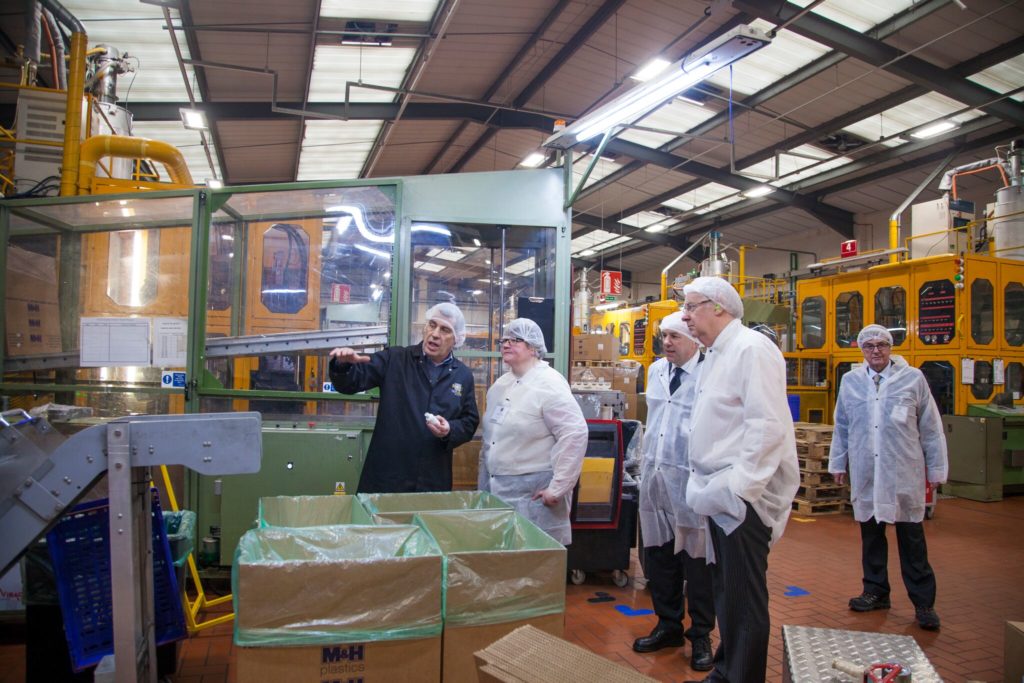 SENIOR figures from the British plastics industry have met with politicians to discuss some of the biggest issues affecting the sector ahead of the UK's negotiations to leave the European Union.
The British Plastics Federation (BPF), alongside members Hellyar Plastics, M&H Plastics, and Plastribution, met with Sir Julian Brazier MP at Hellyar Plastics; Thérèse Coffey MP of the Department for Environment, Food and Rural Affairs (DEFRA) at M&H Plastics; and Andrew Bridgen MP at Plastribution. 
David Hellyar, chairman of Hellyar Plastics, said, "We were delighted to share our thoughts and concerns about how plastics in the UK is going to cope with Brexit and to discuss the kind of support we would like from government.
"Sir Julian was very interested in the work we were doing here at Hellyar and in understanding about the sheer size and dimensions of the UK plastics industry.  We also got chance to discuss in detail some of the important nuances of our industry such as REACH."
Mike Boswell, managing director of Plastribution, added, "[Plastribution] is particularly fortunate to have a local MP with a business background and we very much hope that this meeting will help to ensure that this important sector of the UK economy has a secure future, noting that plastics is a key enabling industry for other important business in the region including food and drink, automotive, aerospace and construction."
At M&H Plastics, Thérèse Coffey, Parliamentary Under Secretary at DEFRA, toured the site where she met with BPF director-general Philip Law and Plastics and Flexible Packaging Group director Barry Turner, alongside chief executive officer at RPC M&H Group David Duffield, and external affairs director RPC BPI Group Mike Baxter. 
They discussed issues including recycling, reducing the amount of materials in use, littering and deposit return schemes, as well as other Brexit-related matters. 
The BPF said the meetings form part of a larger project to engage politicians at all levels to ensure the plastics industry is high on the agenda going into the Brexit discussions.