A Wise move: FANUC apprentice scoops top student prize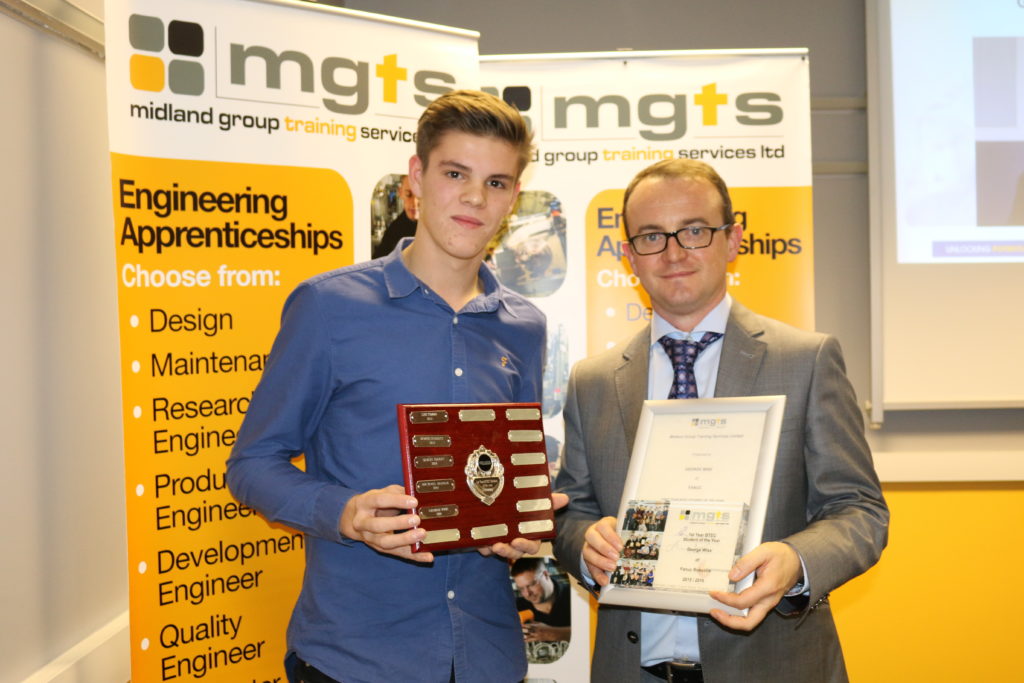 FANUC apprentice George Wise has won a top student award after being nominated for his "industrious and mature approach to further education studies".
The 19-year-old won the Best First Year BTEC Student of the Year prize at the Midland Group Training Services (MGTS) Apprenticeship Awards, having achieved distinctions in all of his subjects.
George attributes his success to self-discipline, honed by working in FANUC's busy environment and interacting with customers and colleagues.
Discussing why he chose to join FANUC, George said, "Other than my interest in robotics and automation, I was attracted by FANUC's wide product range which would give me opportunities to gain experience in multiple areas. Automation is an industry that is on a growth curve, where technology is continually evolving and getting smarter. As a result, I feel confident that I will have a secure career in the future."
Nearly all of George's first year was spent completing off-the-job training at MGTS's centre in Coventry, learning mechanical and maintenance engineering techniques as well as other important elements such as health and safety and the 5S methodology. For the next three years, he will combine working at FANUC UK's headquarters, rotating around different departments, whilst completing his BTEC National Certificate and progressing onto a degree. His five-year ambition is to complete a degree in engineering and be in a position where he can apply for a job in project management at FANUC.
Rachel Kenning, George's mentor within FANUC, added, "George is conscientious, motivated and eager to learn, and has integrated into the FANUC culture seamlessly. His hard work, enthusiasm and ambitious appetite to progress is an inspiration to many and I am confident that George has a strong career ahead of him."
Tagged FANUC