London packaging event declared a huge success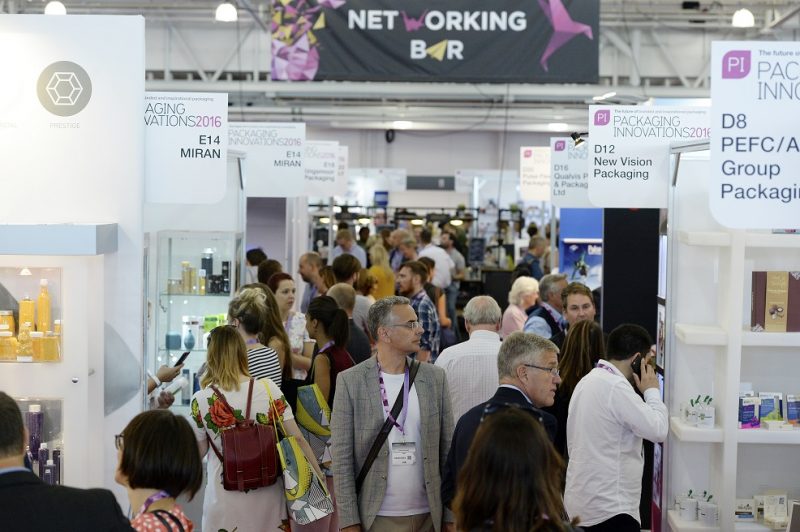 ORGANISERS of this year's Packaging Innovations and Luxury Packaging London have declared the event a huge success, with visitor numbers up and high quality speakers in abundance.
More than 170 exhibitors presented their latest products and services with over 100 new product launches. New products to market included Swedbrand's next generation technology of bag-in-box wine, called Topflow; Segura's latest cloud-based software and KTEC Group's new LX500e Color Label Printer.
With many exhibiting and visiting brands booking stands live on the show floor, uptake for next year's show is already 84%.
Gerry Sherwood, event director of the Easyfairs Packaging Portfolio said, "We couldn't be happier with how this year's show turned out – the attendance figures and feedback off exhibitors and visitors has been incredible – all I can say is bring on the NEC in March!"
The two-day event, which took place at London Olympia, on 14 & 15 September 2016, opened with a keynote session by Mark Pawsey, MP and Chair of the All Party Parliamentary Packaging Manufacturing Group. He said, "The UK packaging manufacturing industry has a turnover of £11 billion, generating 85,000 jobs, which is 3 per cent of the UK's total manufacturing workforce. This shows just how important the role of packaging is within the UK, it does not get the credit it deserves, so I am here to stand up and say well done.
"Looking around it's clear to see just how fantastic the level of innovation on show is. We have innovative products, high end and high quality offerings, which to me shows the industry to be in great health. One of the greatest challenges the packaging industry faces is turning these ideas into mass-market products. This show is a fantastic shop window into the future of packaging, but we must ensure these innovations go on to change the way we work."
The event featured the first ever UK edition of The Dieline Conference, which explored a mixture of packaging and branding topics, from major names including Coca-Cola, The Hershey Company, Wagamama and Elmwood, all presenting the latest cutting-edge subjects currently challenging the world of design.
Emma Stapleton, head of client relationships at Elmwood said, "We have to change the way design is viewed, as it's experiences that drive behaviour and all experiences need to be designed, packaging is just one piece in the 21st century FMCG jigsaw."
The two-day conference programme included speakers from Britvic, Young's Seafood, Neil Farmer Associates, Iggesund and Milroy's of Soho. One of the speakers, Ann Dunne, head of food technology and development at Harrods, said,  "We're seeing more of a craft feel, for instance letter press being used in the wine and spirits field. There's a move towards keepsake items, plus we're seeing use of contrasting materials such as woods and metals. There are also some interesting trends around size – with smaller sizes coming through in some categories."
Organisers added that with innovation at the heart of the show, it was no wonder that The Great Innovation Debate was packed out. Chaired by Stefan Casey, business innovation manager at The Retail Institute, said, "Once again sustainability has come across as a big part of innovation, as consumers are looking for simplicity in design combined with honesty. They want to know where their products are coming from – are they ethically made and environmentally friendly – as a result brands are trying close loop recycling, and by applying circular economy principles from the onset to product design and packaging, it's driving brands to be more innovative giving them a competitive edge."
Speaking at the Beauty Forum was Tom Szaky, CEO at Terracycle, who said, "Everything around us will become waste, the vast majority of beauty products can't be recycled, the reason being economics – not that it can't be done –  just that it costs more than it's currently worth, so we need to design things differently."
Back by popular demand was The Drinks Report, which saw Catherine Monahan, founder and CEO of Daemon and Genius, look at creating an emotional link between the consumer and the product. She said, "We mustn't fit in; we must stand out! Have you done your homework? Has your brand got integrity? Can you stand up and shout about your product? If the answer is no, then you are doing something wrong. We must take our 'tribe' on a journey, and to do this we must fully understand what we want to achieve first."
Tagged EasyFairs, Packaging Innovations and Luxury Packaging London