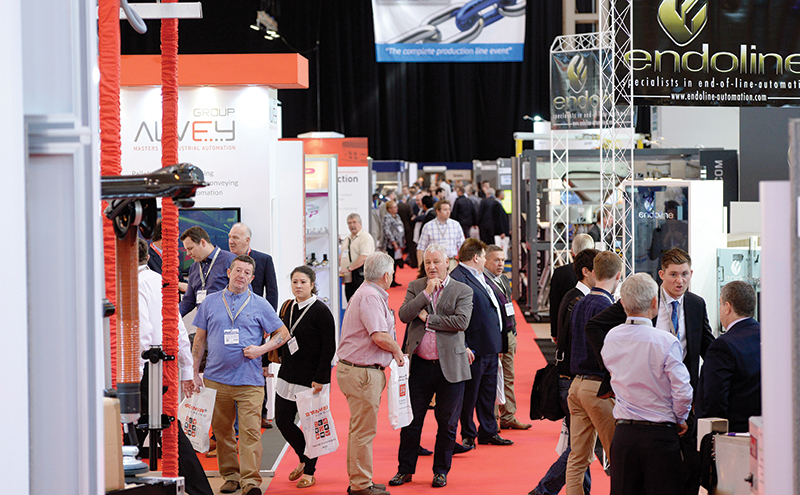 This year's PPMA Total Show is set to be the largest in the trade organisation's history with over 400 exhibitors showcasing the latest innovations in the processing and packaging industry. Packaging Scotland's Fraser Rummens spoke with exhibition manager David Harrison about what visitors can expect at this year's event.
THE triennial PPMA Total Show, to be held this year at the NEC Birmingham from 27-29 September, incorporates three exhibition brands – PPMA, Pakex and Interphex – and is the first PPMA Total Show to run in alignment with the annual PPMA Show, taking place in autumn rather than its usual spring slot.
The show differs from the annual event in that it has a wider remit, focusing not only on processing and packaging machinery, but also materials, containers and packaging design.
Exhibition manager, David Harrison, told Packaging Scotland the aim of the PPMA Total Show is to showcase the latest technology and innovation. "Its principal objective is to promote sales and knowledge of processing and packaging machinery, auxiliary equipment and services to the industry sectors that we serve, so it's there to inform, educate and, where possible, entertain," David explained.
"This year we will have 400 plus exhibitors who will be exhibiting equipment from over 1,400 manufacturers. The majority of exhibitors have UK premises but the equipment exhibited is truly international."
David said the PPMA is delighted that it generates interest from high quality end users from small to multi-national companies.
He continued, "Our visitors are those involved with industrial production, making purchasing recommendations and decisions on equipment for processing and packaging of food, pharmaceuticals, toiletries, cosmetics, dairy, bakery, beers and soft drinks. Other visitor sectors include chemical, confectionary, healthcare and brown and white goods."
PPMA will be promoting their latest initiative, PPMA BEST (Business Education Skills and Training) at the exhibition. The initiative, said David, was set up "to encourage the younger generation into a career in engineering and hopefully, within a career of engineering, into the processing and packaging machinery sector.
"It is a major plank of what we are trying to develop on the back of a successful exhibition and a successful trade association."
David added that the initiative has been "extremely well received" by members.
He believes an important part of putting on a great exhibition is also to entertain visitors. He said, "It's important to take your exhibitions forward in all ways, whether it's education, innovation or breadth of machinery that's there but it's also important to have the bright lights, bright colours and provide a bit of entertainment so that they will remember it as an event.
"We will continue the successful format of PPMA TV. They produce a video promotion of the show and interview exhibitors and visitors to be screened live on a five-metre by three-metre screen above the PPMA Show stand and numerous other screens around the hall."
Recalling a past show, David mentioned an appearance from an eight-foot tall robot called Titan. "You had to be there", he said, "Crowds gathered round to watch and take pictures. It was immense! It's about lifting the ambiance. We feel since the show has come back in-house noise levels have increased and there is more of a buzz around the hall.
"I feel, visitors come to see the latest innovations in their field of interest and see how others solve production problems. Being able to see live, working demonstrations and finding solutions that perhaps they weren't even looking for, it may well be the solution you thought you needed isn't the solution you need at all. The power of exhibitions is all this information available; being able to discuss issues with the expert stand staff plus live demonstrations make exhibitions the perfect place to keep yourself informed on all aspects of current and future purchasing developments and requirements."
Speaking on what makes the PPMA Total Show stand out, David said, "It's the volume of equipment and solutions they can see under one roof and in one day, the number of experts available to talk to and by 'experts' I mean people that are on exhibitor stands. It's important that we recognise the large majority of buyers of equipment are engineers; it's not a surprise they don't want to buy it off the Internet, they want to go and see it and they want to see it working."
He continued, "The purchase of equipment is not just a financial matter; it's all about seeing the machine. How many suppliers are there to select from? How is it built? What is the quality? Who are the people that build it? Can they provide good service back up? Can we develop a working relationship? Visitors that come to our shows are engineers; they are professional and practical people. In today's pressurised production line environment, we must deliver an exhibition experience across the spectrum that will provide them with a high return for the investment of their time.
"We are fortunate enough to make it (the PPMA Show) the largest processing and packaging event in the UK and we do that on an annual basis, so it's the single biggest source of information in the exhibition calendar for the sector.
"The PPMA will continue to invest in the PPMA Total Show so that we can deliver a quality exhibition experience for all who attend."