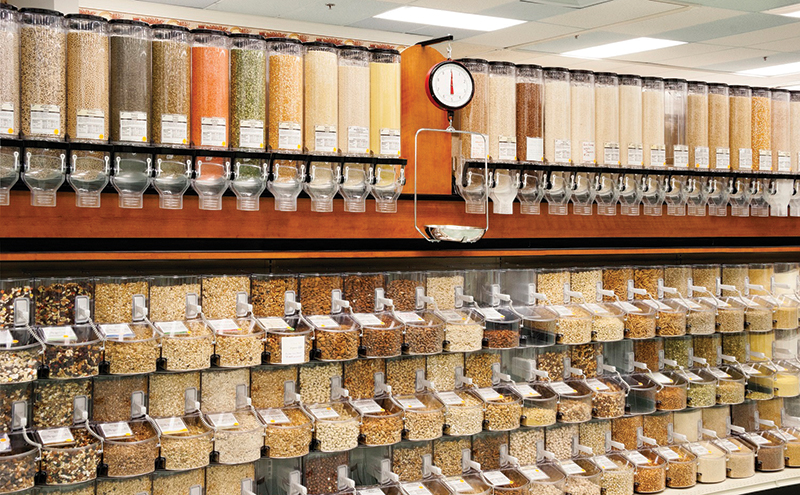 As a business model, selling groceries loose isn't a new- fangled approach. It's what market stalls have done for decades. Farm shops, food cooperatives and organic specialists in particular, continue to test the concept of providing sections, where shoppers can fill reusable containers with everything from flours and cereal to frozen fruit and even laundry detergent.
In 2009, environment and food secretary Hilary Benn unveiled a new food packaging strategy. One of the key proposals the report covered aimed to encourage the larger grocers to give customers the option of refilling containers.
Here, Paul Wilkinson, business development manager at Pacepacker Services, reflects on what has changed in the last six years, and the role suppliers of bulk products can play in reducing packaging and food waste.
IT'S very evident that the range of products people are comfortable buying loose is limited. Trust and freshness are the two key factors. Some of the pilot stores, like London's Unpackaged have fallen by the wayside, while Germany's Original Unverpackt seems to be thriving. The results of Asda's laundry detergent refill trial were disappointing, although Waitrose and Sainsbury's did enjoy some success selling milk pouches with a fridge-friendly refill jug. However, it tends to be the local independent shops, with loyal customer bases, where the refill concept is really starting to take hold. These continue to crop up all over the country.
Examples include microbreweries and wine merchants that cut out the bottling costs by encouraging customers to bring their own receptacles and get their seasonal tipples on tap. Likewise, upmarket US supermarket Whole Foods offers all kinds of things in bulk, from rice, pasta, soup mixes, beans, trail mixes, nut butters, sweeteners, dried fruits, nuts and seeds, to herbs and spices. The big question is, can this refill culture make it into mainstream society and supermarkets?
Independent packaging expert Neil Farmer comments: "Although refills are certainly catching on, the market is very much driven by consumers. Impulse shopping will continue to drive a lot of our purchases, with packaging being the enticement. However, local farm shops, farmer's markets, delicatessens and in some locations village stores, continue to flourish, and this is where I see the refill and buying loose market expanding at a faster rate."
Neil also notes that attitudes to sustainability are changing, but like anything in retail, it can take time for a concept to really take off. "For example, in 1981 Capri Sun attempted to introduce the first standing pouch to the UK. It was not an immediate success. Fast forward to now – the global market for standing pouches is over 30 billion units and the total pouch market is forecast to be worth $37.3 billion in 2018. Supermarkets now stock refill pouches for soaps, liquid detergents and instant coffee. The idea that we should reuse, replace and replenish is central to the circular economy and underpins the changing mindset of consumers."
GIVING HOUSEHOLDERS CONTROL OVER PORTION SIZES
"Demand for buying just the quantity of food or dry goods a person needs can mirror the changes we are seeing in the population and trends in living arrangements," claims Neil. "The number of households in the last decade in the UK has increased by 7% and currently stands at 27 million households. During 2015, 29% of these households contained just one person. However, many packaged supermarket goods are designed for households of three or more people. Selling items, like flour or pulses loose means retailers can appeal to the needs of different household sizes. This can also help to cut food waste, as consumers buy what they need reducing the risk of leftovers and product going out of date."
With consumers being so mindful about sustainability and food waste, selling products loose instantly eliminates one of the most visible environmental demons – flashy packaging. Yet, the reality is, even eco-conscious shops selling from scoop bins and claiming to be packaging-free won't be entirely. Bulk containers and dispensers still have to be filled and produce has to be shipped in by pallets. From source to plate, there will be an element of packaging involved in the process.
AUTOMATION A SUSTAINABLE PATH TO PROFIT
For bulk packers that supply loose product to retailers, product integrity when bagging high volumes is paramount. Constricting health and safety regulations, the ability to withstand harsh environments and the need to relieve employees of onerous, laborious tasks is the driving force behind automation in the bulk sector. However, the efficiencies gained through automation may be cancelled out if product wastage occurs.
Stability of the bag is critical during the filling and sealing process of loose product. Inconsistent sealing can result in product wastage through spillage, while unaided open bags moving from the filler to the sealer can be at risk from product contamination.
To overcome this, it's important to have a secure grip on the bag at all times during the filling and sealing process, which a system incorporating motorised grip arms offer.  On Pacepacker's Total Bag Control (TBC) system, the arms move around the bag the moment it is released from the clamp holding it in its formed state and clamping it shut through the sealing process. So, at no point can anything miscellaneous drop into the sack, thereby eliminating the contamination risk. 
The closing system must also be capable of handling different packaging formats. Nowadays, it's not just about having the ability to handle heavy sacks. There is a trend towards higher performance plastic packaging in the bulk sector, as it reduces the risk of puncturing, packaging tears and breakage during distribution and storage.
Special coatings can also be used to minimise slip during transit. To maintain product freshness and extend shelf life, stockists of loose product also express a preference for innovative features like zippers and pouring spouts and bags can be sealed at the bottom to manage this trend.
Weight is also an important factor to consider. Although a supplier of loose product won't be subject to the same Weights and Measures Legislation as packaged goods, an inaccurate weighing system will hit bulk suppliers where it hurts – on the bottom line.
Given that we supply equipment for sacks that weigh between 2.5kg and 50kg, overfilling every sack supplied by just a few grams will quickly eat into your profit margins. An approved weighing system or checkweigher can be incorporated to verify the weight of products prior to them being palletised or made ready for distribution.
If you are integrating new equipment with an existing system, do check compatibility. The overall line is speed is determined by the slowest element – if this is your exit conveyor, then your operation may experience a repeated bottleneck.
To overcome another common hazard – manual lifting of heavy sacks – bulk suppliers may also consider automating the end of line palletising operation. Many loose product sacks will weigh from 5kg upwards. If it does, and is carried more than five metres and the person does this activity more than five times a month, this could imply a significant lifting activity. When loading pallets, also factor in how easy it will be for your customer to unload the stack.
Supplying loose products to retailers eager to capture this market is a real business opportunity for bulk suppliers. Since the economic downturn, consumers have certainly started to think more about food and products that they need day to day, and how they can save money and do the right thing for the environment. If you require a specialist ingredient for a one off recipe, for example a spice or desiccated coconut, it is less wasteful to buy what you need.
My view is although we can't avoid packaging entirely, buying loose groceries and the refill market segment will continue to grow, as it does provide consumers with a more sensory shopping experience. It might not be quite the disruptive technology that environmentalists were hoping for, but these little changes when added together do start to have a positive impact as we journey towards a more sustainable future.