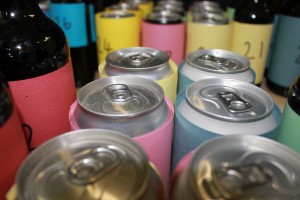 The 2016 Indie beer Can Festival is set to take place in London on May 12.
The event, now in its second year, was launched by The Can Makers and the Society of Independent Brewers (SIBA) and looks to crown the best independent beer is cans.
Of an original 131 entrants, 13 finalists remain with entries split across three categories – 'Best Ale', 'Best Lager' and 'Best Other'.
A first round of judging took place in December last year with brewers explaining why they wanted to be considered.
34 were shortlisted and a panel of judges consisting of head of beers, wines & spirits for Lidl UK, Ben Hulme, author and beer expert, Adrian Tierney-Jones and beer sommelier, Annabel Smith, blind tasted each entry, with 13 finalists being chosen who will now vie for the award of 'Best in Show'.
Annabel Smith commented, "Ben, Adrian and I had our work cut out for us during the first stages of judging. We read about and tasted a wonderful range of brews, many of which we would have loved to have experienced again.
"Our focus was on those where the appearance, pour, taste and aroma best came together to convince us that we were experiencing a well-thought out beer, worthy of a place in the final."
9 of the 13 finalists have yet to be sold in can. Those beers will be canned through mobile canning line, WeCan Solutions, as part of the prize for being a finalist.
Ben Hulme added, "This competition evidences just how far the independent brewing industry in the UK has come. There were some incredible, complex flavours, many we couldn't have hoped to have experienced a few years ago.
"But the judging wasn't just about taste of the beer – we were particularly impressed with those brewers that understood the benefits of the can for their brand."
All finalists are also eligible for the award for 'Best Design', which is to be judged by Sean Thomas, creative director at design agency, JKR, and Claudio Vecchio, creative partner at Midday.
SIBA Director, Tony Jerome said, "It has been wonderful, for a second time, to see so many SIBA members entering this competition and making the final. We recognise the important role that canning will play in the future of independent brewing in the UK.
"The Indie Beer Can Festival represents the future for many independent brewers; it's a significant event and we are delighted to see the nation's rising brewers embracing it, and the can."
The finalists are:
Best Ale
Leaping Legend – Hall & Woodhouse
Uprising Treason – Windsor & Eton Brewery
Blonde Bird – Greyhound Brewery
New World IPA – Northern Monk Brew Co
Best Lager
Brotherhood Lager – William Bro's Brewing Company
Liberty Pils – Freedom Brewery
1917 – The Little Beer Corporation Ltd
Steam Lager – Redwell
Best Other
Spicy Weiss – Earth Ale Brewery
Bad Kitty – Brass Castle Brewery
Fireweisse – Firebird Brewing Company
Oatmeal Stout – FourPure
Northern Star Mocha Porter – Northern Monk Brew Co