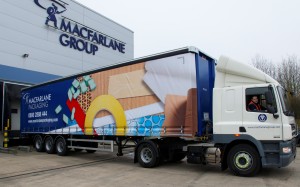 MACFARLANE Group has snapped up Glasgow-based packaging firm Edward McNeil Limited in a deal which could rise to £1.8 million.
Edward McNeil, which has traded for over 50 years and currently has 12 employees, is a regional distributor of protective packaging materials. In the year to 31 December 2015 the business generated sales of around £3.6 million.
Macfarlane said the deal will be paid for from existing borrowing facilities, with a deferred consideration of £150,000 payable in the next year based on certain working capital target being met.
Peter Atkinson, chief executive of Macfarlane explained, "Edward McNeil is a successful business with a high quality customer base who benefit from excellent customer service levels.
"The business has a good team, who will complement the Macfarlane Packaging Distribution business based in Linwood and strengthen Macfarlane's presence in Scotland."
Samuel Kingsley, managing director of Edward McNeil Limited, added, "I am delighted that our packaging business has been acquired by Macfarlane. The acquisition will create opportunities to develop the business in the coming years."