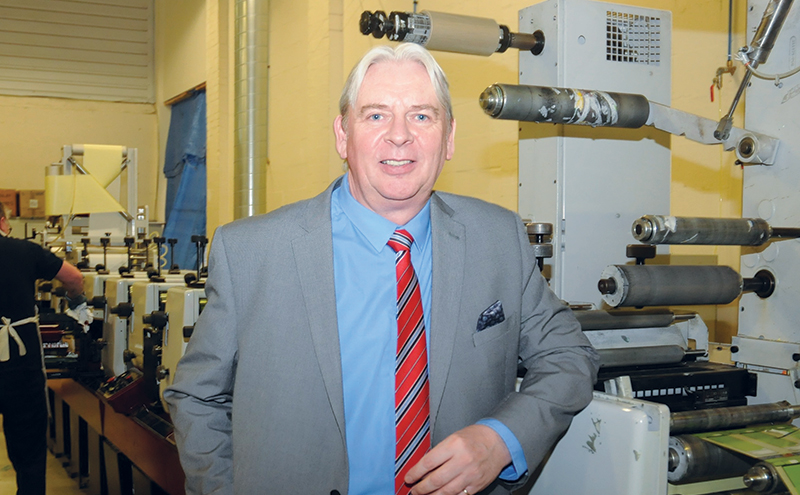 SELF-ADHESIVE labels manufacturer, Lothian Labels and Packaging, located in Broxburn, is part of Scotland's largest independent packaging group, the UPAC Group.
The family-owned Group is made up of different companies in the packaging sector including W&M Watson Packaging, Peter Bryson Packaging, the Colour Carton Company and Merlin Healthcare. The Group has also acquired and absorbed other packaging companies including Kite Packaging and Affinity Adhesives.
With UPAC earmarking more than £1m for investment, Lothian Labels recently acquired a new eight colour press with foiling capabilities, and expanded their target market while offering a larger stock holding facility.
Packaging Scotland's Fraser Rummens recently met with Billy Armitage, Lothian Labels' sales director, to discuss the impact of the business being acquired by the UPAC Group and the firm's ambitious plans for the future.
[hr]
"THE UPAC Group is slightly different from other packaging merchants in Scotland in that they are both merchant and manufacturer."
So says Billy Armitage, sales director at Lothian Labels. "If someone is looking to buy a specialised case we can now go to Colour Cartons and get it manufactured there. If it's labels they can come and get them in-house. We have a business that has over 6,000 customers from a Group basis so you have access to those customers immediately."
The Group's different companies are located across the west of the country with a 100,000 sq ft site at Rutherglen "where all the cases are stored because we operate a system of stock and hold", Billy added.
"The Colour Carton site is in East Kilbride, Peter Bryson film is based in Glasgow, as well, and Lothian Labels is in Broxburn. But because we've grown so big and so quickly, we're looking at new premises, probably between a 100 and 150,000 sq ft warehouse, which is quite difficult to find in the west of Scotland but we would rather stay over that way because it's where everybody is and it's easy access for people."
Lothian Labels itself was acquired by the UPAC Group in 2014 who then brought in Kate Smith as operations director and Billy as sales director. In that time the number of staff on-site has doubled to 14 and the company has expanded its workspace.
"I'm from a labelling background," Billy explained. "Kate Smith and I worked together many years ago when we first started out in labels and Kate was the first to join the business here. The family hadn't been involved in labels before so they were looking for some experienced personnel to come in, Kate came in as operations director but there was no sales team. It worked out well for me, as I was finishing at Macfarlane Labels in Kilmarnock when I got the call, asking if I wanted to come in and start up the sales side of the business.
"We put a sales force in place and brought everyone in together so everyone is looking at all aspects of the business. You're not only doing boxes or tapes, you're doing labels, you're doing film, you're doing everything and that has resulted in an incredible growth for us within the last year.
"On the labelling side, we've almost doubled turnover here so it's been a good year and that has a knock on effect where, because the manufacturing side has been successful for us, the Group is allocated capital investment for the business, hence why we've grown here so quickly.
"It became very apparent that, as the business grew, we were running at maximum capacity and the only way to increase that is put a new press in and actually expand next door. It's proved a big investment for us here and we will continue to invest here because it's a growth area for the business."
Lothian Labels recently installed an eight-colour Mark Andy LP3000 press to meet increased demand. "We've invested around £250,000 so far," Billy said. "There are other peripherals around there where you need extra machinery and extra staff so that's the start of it. Overall, we've set aside a million pounds here for investment. It has a foiling unit as well, a lamination unit and it can do reverse prints so it has given us a wider target market and that's the way forward.
"It's bigger, faster, allows us more colours and allows us to look at other aspects of the marketplace. We have deliberately taken the second unit to allow us to put another press in here, probably in the second half of 2016."
Looking forward, Billy said that the plan for the rest of the year is "more growth and future investment".
He continued, "The new kit allows us to do new things. For example, we've never printed foil but because of the new foiling unit we can now look at labels that have foil on them and we've already had the first job done. It just allows you to target different areas of the Scottish market, not only in food and drink but also on the industrial side, the pharmaceutical side and the agricultural side."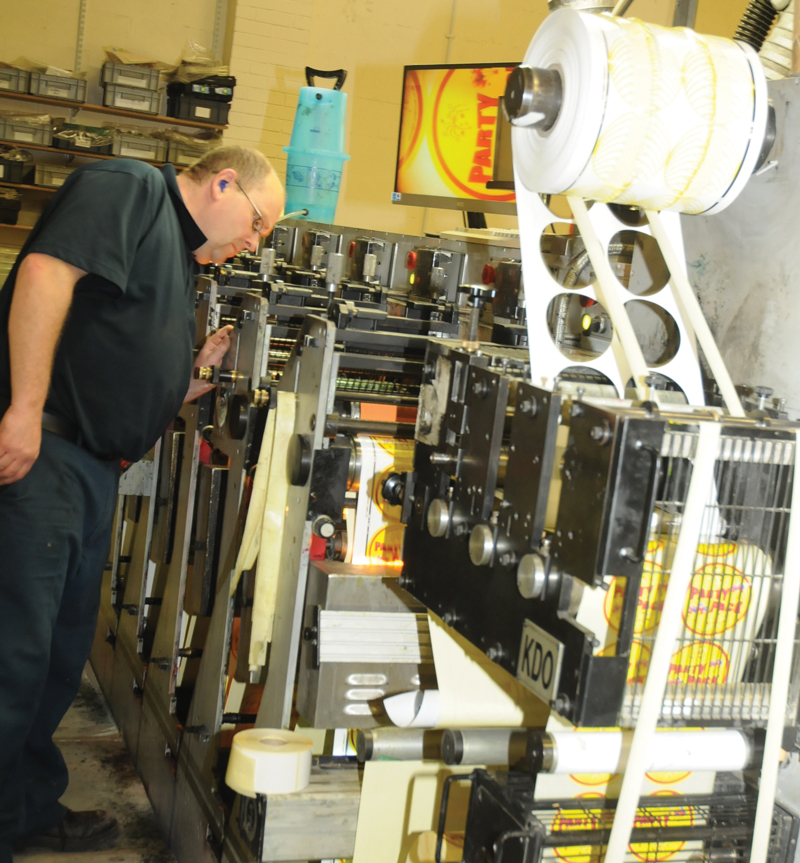 Billy went on to say that the biggest challenge facing the business is keeping up with the technology. "As technology grows you have to grow with it. You have to invest in the technology and that's the beauty of being an independent Group, it's a family so if I need CapEx, it's a very straightforward decision – justify the decision and it's made. I think for anybody in the marketplace to continue to grow, you need to invest in your business and that's what we do. The printing technology is changing very, very quickly, year on year. What you can do with a digital press now is incredible and that may be an area we look at again in the future.
"We have a very quick process because we're known in the marketplace for a very quick turnaround. For example, we are the nominated supplier for Booker and Makro UK. Booker has just bought Makro and if they have a demand that we must deliver labels within three days, that's how we operate.
"We deal with the full ensemble of the Scottish market and there isn't really something we can't print if someone comes and asks for a label.
"It's really is about quality and customer service. I know it's a big cliché, but, really, that's it," he added.