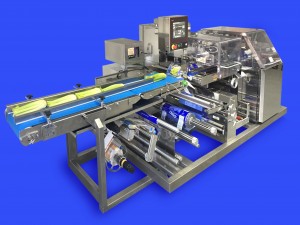 PARAMOUNT Packaging Systems has announced the launch of a new flow-wrapper, which is said to be customised for  ideal use for salad and vegetable growers.
Paramount is the exclusive distributor of Fuji Machinery Company's horizontal and vertical form-fill-seal equipment in the UK and Ireland. The firm said the new Alpha VII FW3710BS/B back seal flow-wrapper has been adapted for "reliable, high speed operation on the mobile field harvesting rigs widely used by fresh produce growers".
The machine is mounted on a "robust" stainless steel support frame, allowing the flow-wrapper to be easily repositioned when the sides of the rig are folded up for transportation between fields and even countries. It also features an integrated ink jet coder and labeller.
Simon Martin, sales manager at Paramount Packaging, said, "We have seen increasing demand for automated flow-wrappers that offer high speed yet accurate and reliable operation in harsh outdoor environments, and in all weather conditions. However, a standard flow-wrapper requires careful handling and positioning meaning it might not offer the performance and efficiency benefits required by today's salad and vegetable growers.
"As a result, we developed the rigid stainless steel frame with heavy duty castors to allow the flow-wrapper to be moved around more easily, and to be taken on and off field harvesting rigs simply and quickly. It also provides a stable mounting for the labeller which on an inverted wrapper would normally be freestanding on the floor underneath the infeed."