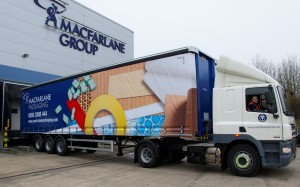 GLASGOW-based Macfarlane Group has confirmed the acquisition of Colton Packaging Teesside in a deal worth up to £1.25 million.
Colton Packaging Teesside has eight employees and is the north east branch of Colton Packaging Limited, a regional distributor of protective packaging materials based in Leicester
Last year Colton Packaging Teesside generated sales of circa £3 million. Macfarlane will pay an initial consideration of £1.05 million with a further £200,000 deferred  "assuming key financial objectives are achieved in the 12-month period post-acquisition".
Peter Atkinson, chief executive of Macfarlane, said, "Colton Packaging Teesside is a high quality business with a good team of people who will complement the Macfarlane Packaging Distribution business based in Newcastle and strengthen Macfarlane's presence in the north east of England."