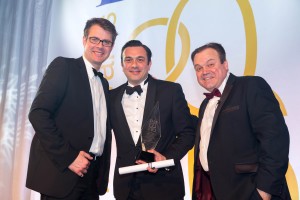 PARKSIDE has scooped its third European Flexographic Industry Association (EFIA) award in two years.
The manufacturer was awarded gold in the sustainable manufacturing and product innovation category for its Parkscribe sandwich wrap.
The EFIA annual print awards were presented at a ceremony at The Vox, Resorts World in Birmingham last week and recognise excellence in flexographic printing across a number of skills and techniques.
Nick Smith, Parkside managing director said. "Being recognised at these annual awards is testament to the hard work that has gone in to developing our APEX strategy (Advanced Packaging Expertise). We are proud of our achievements to date and will continue to develop and deliver attractive yet practical differentiated products."
The Parkscribe wrap is a flexible pack which uses laser scribing technology to form several incisions in the wrap to create an easy open, no fuss, no mess solution.
Last year, Parkside won awards for its work developing two products including the compostable flexible pack and LIDD, its duplex laminate lidding film, designed for the ready meal market.