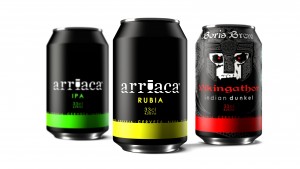 Can maker Rexam has partnered with Spanish microbrewer Arriaca to launch Spain's first canned craft beer.
The craft brewer's Rubia, IPA and Vikingathor expressions will be packaged in Rexam's 330ml cans, launching this month (March).
Arriaca designed the' minimal look of the cans with the support of Rexam, to "reflect the rebellious nature of the pioneering brand. Rexam's value added matt over varnish gives the cans a premium finish, echoing the quality of the beer and appealing to Arriaca's discerning target audience," according to a spokesperson.
Speaking about the collaboration, Jesus León, CEO Cervezas Arriaca, said, "We made this decision having recognised the benefits of the can in terms of sustainability and its capacity to conserve liquids. Rexam is well known in the industry for their support of craft brewers and we trust them to offer the support and education we need to make this transition.
"In recent years, the craft beer market has experienced tremendous growth, and the striking design of the new can is key to attract and engage new consumers. We love the cans and we know our customers will too!"
Fernando Muñoz, Rexam Sales Manager, added, "We're thrilled to work with another craft brewer on the continent and expand our portfolio of customers outside the UK. Increasingly, craft brewers are recognising the suitability of the can and assisting them in this transition is mutually beneficial for both parties.
"Arriaca is leading the trend in Spain and we look forward to supporting more Spanish craft brewers who choose to take the same route."
The cans, manufactured out of Rexam's La Selva plant, will be available in the Spanish domestic market through various retail channels.