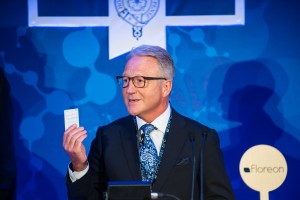 Bioplastic technology firm Floreon Transforming Packaging Ltd has been recognised at the 2016 Duke of York's Pitch@Palace initiative, part of The Prince Andrew Charitable Trust.
This marks a significant step for Floreon as it looks to challenge perceptions within the industry and encourage the uptake of its patented plastic made from renewable resources, using plants as a raw material.
Shaun Chatterton, CEO of Floreon, said, "Typically plastics are made from diminishing crude oil resources, which suffer from significant fluctuation in price and an unsustainable future. From the uncertainty of sustainability, the environmental impact and concern of increasing prices, we are increasingly seeing a move towards the use of renewable resources for plastics packaging."
Floreon is a blend of a standard bioplastic polylactic acid (PLA) and other carefully selected biopolyesters, which the firm says results in a resin that is much tougher and easier to process than current materials. It also has the potential to expand the use of bioplastics and replace other plastic derivatives.
The patented technology is described as being suitable for a wide range of plastic applications, but with improved mechanical, physical, chemical and thermal properties.
Dr. Andrew Gill, technical director, Florin added, "What makes Floreon different is that we have significantly boosted the performance of PLA without adversely changing the nature of the material. Our additives are effective at very low addition levels, maintaining a high level of biobased content without compromising the compostability or safety of the material."
Mr Chatterton added, "It was truly an honour to be recognised as one of the 14 entrepreneurs invited to take part in the Pitch@Palace final. There was strong competition, with many finalists showcasing innovations in the medical, consumer healthcare and research technology sectors. Reaching the final was a fantastic opportunity to showcase our product and explore opportunities with potential industry influencers. The response has been remarkable and we're excited to continue highlighting the benefits of Floreon to the wider industry."