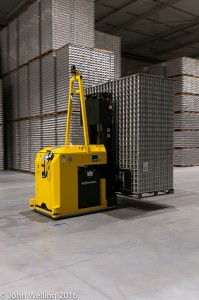 Ardagh Group has announced that it has invested €2.4m in a new warehousing facility in the Netherlands.
The 7,500 sq. metre warehouse, located at the company's production facility in Deventer, will feature "the very latest in stock management solutions", according to a spokesperson. It is attached to the DWI (Drawn, Walled and Ironed) metal production facility.
A major part of the investment is a fleet of 'fully automated' forklift trucks, also known as 'Automated Guided Vehicles' (AVGs). These forklift trucks are controlled by advanced software and manage the operation of the warehouse in a full lights out environment.
The project is a collaboration between Ardagh Group and AGVE, a supplier of AVG-systems.
Jan de Bruin, plant manager of the Deventer Production Facility commented, "Our new warehouse, adjacent to the production facility, gives us and our customers a more efficient, smoother, streamlined logistical service.
"It is longer than a football pitch (or the equivalent size of 40 indoor tennis courts), is equipped with the latest software and hardware systems to monitor movements, and, we calculate, will remove 12 tonnes of CO2 through fewer truck movements to our previous external warehouses."