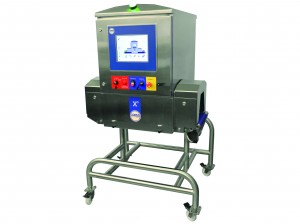 A Larbert-based cake and dessert manufacturer has installed a Loma Systems X5 Spacesaver x-ray machine at its production facility.
Mathiesons produces a wide range of products for retailers, bakeries and supermarkets around the UK. The firm operates six production lines at its BRC (British Retail Consortium) accredited plant.
The new X5 Spacesaver is said to be inspecting fresh cream products for contaminants at speeds "up to 1500 packs per hour" and complements two Loma metal detectors already in use at the company's premises.
Nick Wills, managing director at Mathiesons said, "The investment in the X5 Spacesaver follows on from the successful installation of two Loma metal detectors several years ago.
"As a food business, we are committed to utilising the best production equipment on the market and we felt that this new x-ray model met our brief perfectly. It is also important that we harness technology that is future proof and keeps up with changing BRC standards and retailer codes of practice."
Loma says its X5 Spacesaver offers "25% improved detection performance, 20% smaller footprint than similar machines and ultra-hygienic design for quick clean and low maintenance and serviceability".
Nick added, "Space is always at a premium so the X5 Spacesaver's compact, slimline size is a big advantage.
"It also has a very hygienic design including sloping shoulders so food particles do not gather in the crevices and easy access for efficient strip down, cleaning and maintenance.
"The X5 Spacesaver is easy to install and operate plus offers instant operator access to a wide range of invaluable quality control information and data.
"Having used Loma equipment for some time, we know their support packages meet all our criteria. The Scotland-based engineers are a major advantage and their overall service is good. They do what they say they are going to do."