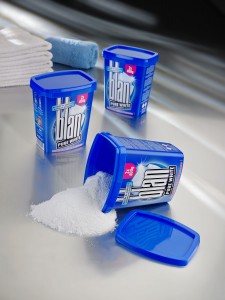 Peritus Brands has introduced a new packaging for its Blan White bleaching powder. The Belgian household products company has collaborated with RPC Superfos, using UniPak plastic containers.
The new 800g square pot, which is injection moulded in polypropylene "is playing a key role in helping to reinforce sales and gain customer loyalty", according to a company spokesperson.
Isabel Vanhulle, marketing manager of Peritus Brands explained, "Our product Blan White helps to maintain the cleanliness and freshness of white textiles. It is a household product, used in humid environments.
"The UniPak storage pack renders protection against humidity and prevents the powder from getting lumpy. In this way the plastic storage pack adds to the customer value of Blan White."
"As a manufacturer, we know that our choice of packaging has a clear impact on our customer relations. The UniPak storage box is beautiful with flawless in-mould labelling decoration. We consider the packaging a strong means of communication and in this case we also put in a small leaflet with pictures of our product range and brand values."
Speaking on the company's collaboration with RPC Superfos, Isabel said, "I simply searched for 'plastic box' and found all the information I was looking for on the RPC Superfos website. It is a very good site with a clear structure, offering great pictures and ample technical information. Obviously, I also got in touch with other packaging suppliers, but was convinced to work with RPC Superfos, when all my questions about prices and delivery times were attentively and quickly dealt with.
"All promises have been kept and I am more than satisfied with our co-operation. It has been smooth and easy both in terms of the service rendered and the delivered packaging products."