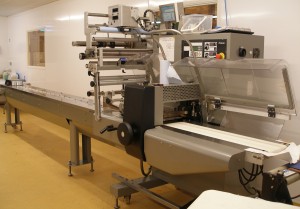 Pulsin', a UK food manufacturer of natural protein bars, protein powders and healthy snacks, is meeting the growing demand for their products by investing in more equipment from ULMA Packaging ltd.
The Gloucester-based company began production eight years ago and has enjoyed great success, which they attribute in part to their purchasing ULMA's wrapping equipment which has helped them boost their output of snack bars and brownies.
After moving into a new unit, Pulsin' acquired a second Florida E flowrapper from ULMA, that would work alongside the original they received in 2012 and recently celebrated the milestone of producing their 12 millionth bar since 2007.
The Florida flowrapper is a popular entry-level horizontal form fill and seal machine. It features a touch-screen operation with multi-product memory, a 'no product – no bag' and 'misplaced product detection' systems and works with both clear and printed film.
Retailers are insisting that suppliers in the bakery industry utilise packaging systems that not only protect the integrity of the goods but also accelerate the process of getting them into stores and prolong shelf life.
A spokesperson for Pulsin' said, "ULMA's machines wrap all the bars we produce. The flowrappers are incredibly quick and efficient, allowing us to keep up with bar production as they come off the line."