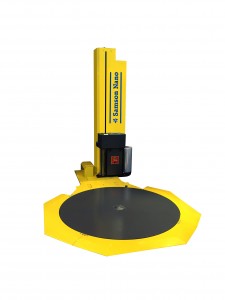 Samuel Grant will be exhibiting their "revolutionary" Samson Nano palletwrapper at Foodex 2016.
Launched to the market in 2014, the firm said the Samson Nano is hugely popular with clients wanting to improve their pallet wrapping operations with a "faster, safer, smarter device, offering added value with a clear price-per-pallet-wrapped transparent costing system".
The machine, as well as its servicing and maintenance, are free. All clients pay for is pallets successfully wrapped. Visitors to the Samuel Grant Group's stand (number N318) will be given the opportunity to book a free audit of their current palletwrapping operation, as well as organise a no-obligation trial of the Samson Nano.
Packed with "innovative" technology, and boasting the "lowest turntable height of any other available pallet wrapper", the Samson Nano is said to offer "a complete turnkey solution to businesses".
Pre-set to avoid any human error, the machine delivers a "high quality wrap using film stretched up to three times more than previous solutions, meaning that the device is not only effective, it is also cost-efficient and environmentally sound".
Andrew Grant, managing director of Samuel Grant Group said, "We love showing off the Samson Nano, and Foodex provides the perfect platform. The machine is born out of four generations of packaging obsession, and it gives us great pleasure to have brought it to market."
For more information, visit www.samsonnano.co.uk or call 0113 270 7221