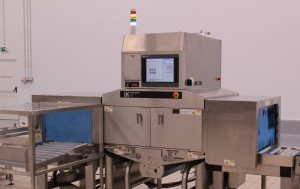 Greek yogurt producer, Kri Kri, is using Ishida X-ray technology to ensure the quality of their Greek yogurt.
A company spokesperson explained, "The Ishida X-ray forms part of Kri Kri's own stringent quality control procedures and also enables the company to meet the strict requirements of its customers.   While the advanced production processes incorporate the highest hygiene levels, it is vital that Kri Kri remains vigilant against potential foreign bodies such as metal, glass or other foreign materials that could contaminate the yogurt if there was a problem with any of the equipment on the line."
According to Kri Kri, the major benefits of using the Ishida X-ray system include its "ease of use… and its versatility in its sensitivity and levels of detection".
The company has an extensive product range featuring over 140 yogurt products, which are filled, packed, cased and then inspected using the Ishida X-ray machine.
Kri Kri's production manager, Petros Kissas, said, "I compare the versatility of the Ishida X-ray to that of a Swiss army knife, with so many different options available. This means we can tailor the machine to our exact detection requirements, and so are able to handle many different product types.
"We place huge emphasis on the premium nature of our yogurts and on our commitment to deliver the highest quality, so it is absolutely vital that we can carry out stringent monitoring to ensure that all our products leave our factory in the best possible condition."
The company currently processes between 80 and 90 tonnes of yogurt per day, with the Ishida X-ray system monitoring 12,000 to 14,000 cups per hour, which Petros describes as being "well within the capabilities of the X-ray machine, but we prefer to operate it at medium to high speed in order to ensure every pack is checked thoroughly."
Dimitris Barboutis, Kri Kri's technical manager, said, "We knew of Ishida's reputation for reliable, top-of-the-range equipment and we had already enjoyed excellent collaboration with Europack, so these were key factors in our decision.
"Naturally we were looking for value-for-money from our investment but the overriding concern was quality and safety – these simply cannot be compromised, since ultimately it is our reputation that is on the line. And we know that with Ishida we have the equipment that will help us maintain our hard-earned reputation."