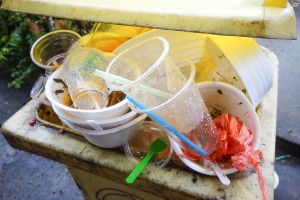 With food and drink manufacturers under more pressure than ever before to reduce waste, Resource Efficient Scotland held a special event at Edinburgh Zoo designed to help those businesses benefit from reduced waste and improved packaging design. Packaging Scotland's Fraser Rummens went along to find out more.
OVER 30 representatives from companies including Coca-Cola and Diageo congregated at Edinburgh Zoo recently for a workshop on reducing packaging and food waste.
The event was organised by Resource Efficient Scotland, a Scottish Government programme delivered by Zero Waste Scotland.
The day comprised of a series of presentations from guest speakers including Iain Ferguson, environmental manager for The Co-operative Food, Jess Twemlow of Resource Efficient Scotland, Dr Richard Swannell, director of sustainable food systems for WRAP and Catherine Weetman, senior consultant at SCALA consulting.
There was also a Q&A session, featuring Jamie Pitcairn, director of Ricardo Energy and Environment, who was involved in drafting Scotland's Zero Waste Regulations.
Jess Twemlow presented a series of case studies demonstrating the work being done by Resource Efficient Scotland in a bid to help organisations. These included assisting the Edrington Group in the development of a super lightweight version of the Famous Grouse whisky bottle and helping Tesco reduce wastage in their dairy egg supply chain.
Iain Ferguson addressed several ways The Co-operative are battling food and packaging waste, such as the transition to skin packs for beef and steak, which has increased shelf life from six to ten days, and the use of providing storage information on fresh produce bags.
Speaking after the event, Iain said, "I think it's really important to support Scottish SMEs in helping to reduce food waste and improve packaging and recyclability. We are very keen to support local suppliers in Scotland to do that.
"I'd like to see better labeling for consumers on food waste, improved shelf life on products through the supply chain and better design of packaging to help recyclability."
Iain went on to highlight what he believes is an important issue, "There's a gap of communication between recyclers and retailers. We want to try and work to close that gap and we're already in communication with some recyclers, but we need to understand what it is they need from our packaging and they need to understand why we use the packaging we do. It's really, really crucial to making progress. This sort of event is extremely important to try and engender some understanding and debate."
The debate Iain referred to became rather lively during the Q&A session, as several attendees and speakers bantered back and forth on the issue of reusable versus recyclable materials and the need for legislation on recycling.
After giving her presentation on value opportunities for distribution and recovery in packaging, Catherine Weetman led a hands-on group workshop, during which attendees were tasked with redesigning the humble milk carton.
Peter McKenna, manufacturing team leader of glass production lines with Coca-Cola Enterprises, spoke about why he was there on behalf of the global brand. "We're just here for a bit of networking, to see if we can learn from it, anything that will improve us. It's just basically anything I can do to improve what we currently do at site.  We're a world class company and we want to make sure we're doing all our recycling as good as we can, if not better."
Willie Fergusson, retail, food and drink sector manager, for the Resource Efficient Scotland programme, said, "The aim of the event was to raise the impact of food waste.
"19% of preventable food waste occurs in the food and drink manufacturing process. We need to understand what the driver is for food waste and indeed, packaging waste, and how we can support these manufacturers to reduce their waste.
"It's going to affect everyone in the supply chain at some stage, so it's a really good opportunity for retailers and food and drink businesses to plan ahead about how they might tackle waste more broadly.
"The win doesn't come just from one person or one link in the chain; it comes from collaboration across the entire food and drink supply chain".