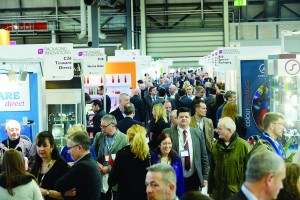 Gerry Sherwood, event director of Easyfairs' UK packaging portfolio, tells Packaging Scotland what visitors can expect from Packaging Innovations, Label&Print and Empack 2016
Q) What's the history of the event? 
A) It's amazing to think this coming February's edition of Packaging Innovations will be our eleventh show. Since opening its doors in 2006, the show has tripled in size with over 350 exhibitors. It has changed, for the better, beyond all recognition and become the key calendar event for the packaging industry. All different types of companies that supply into the packaging industry are here, and if you really want to know what's going on in the industry, you need to be here.
The show has evolved with the industry, often pioneering trends and innovations before the market has had a chance to see them. Certainly the print interest at the show seems to be growing year on year and in fact we are boasting more label and print suppliers this year than ever before. I think the print aspect is so popular because it offers visitors access to technology and approaches that can make a marked difference to the potential of their packaging; it enables people to think more innovatively about what they can do.
Brands are increasingly seeing that in order to take their product to the next level, they need to engage with the consumer, not only on-shelf, but also in the home. Print technologies, such as augmented reality, are giving brands a chance to link between their packaging and social media strategies – packaging is really coming alive!
Q) Can you explain the differences between Packaging Innovations, Empack and Label&Print?
A) Packaging markets are a constantly changing environment and the three shows reflect the recent trends and developments, which are driven by innovations in technology, marketing and packaging processes. The shows are highly complementary to each other, but they all have a specific focus and target audience.
Packaging Innovations is the UK's leading packaging event, dedicated to bringing the UK packaging industry together. It demonstrates the most advanced innovations, inspires new developments and looks at the latest approaches. Plus, it also provides an opportunity for contract packers and manufacturers to promote their services at Contract Pack and new sustainability features at Ecopack.
Label&Print is the only UK event where you can take a first-hand look at the packaging print industry, with thousands of products and services on show. The show will cover all aspects of offset printing, converting machinery and labelling equipment.
Empack is the leading packaging machinery and technology event, providing manufacturers with the opportunity to achieve greater productivity, efficiency and cost reductions, in terms of its product's packaging.
Q) What new features can visitors expect this year?
A) After the success of our show features last year, we only found it necessary to add a handful of new additions for 2016. You can expect to see 'The Great Innovation Debate', 'The Innovation Showcase' and 'The Rising Star Scheme', which all come across from our hugely successful London show.
The Great Innovation Debate is an interactive panel discussion, which will explore a critical theme or industry topic in relation to packaging.
The Innovation Showcase highlights the very latest innovations from the packaging industry. Exhibitors are asked to send in their entries and we, Easyfairs, whittle them down to an exclusive group of winners. The visitors will get a chance to see these thought-provoking and industry leading designs live on the show floor.
The Rising Star Scheme has been designed with young brands in mind, providing them with the opportunity to achieve their packaging goals and to find the right solutions for their company. The scheme ensures that these start-ups or organisations in their infancy find the right suppliers and products at the show, enhancing the brand and taking the packaging to the next level, no matter the size of company.
Q) How important do you think these kind of trade shows are?
A) Despite this being the digital age, face to face events are increasingly popular. Indeed, we at Easyfairs have been organising trade shows for over 25 years, and I can tell you that both visitor and exhibitor numbers are rising strongly across the board.
It seems that at a time when calls are screened, diaries are busy, and no-one has time to meet up any more, a show provides a unique opportunity for that important face-to-face communication to happen. People really value that. Plus, while a trawl of the internet is only a click away buyers recognise that it can't do it all; for a time-pressed buyer, trade shows present a rare chance to  actually look at what the supplier base has to offer, identify potential new innovations and ideas, spot new providers and meet commercial partners.
If you take a closer look, from an exhibitor's point of view, what they want first and foremost from a trade show are sales. Good shows offer an exhibiting company an opportunity to cost-effectively reach a targeted audience of qualified buyers and key industry decision makers. For many the industry trade show is the critical moment in the year when their sales pipeline gets boosted.
Networking is another often undervalued advantage of being at an exhibition and another reason why they continue to thrive. Of course many exhibitors are competitors but sometimes they are at complementary points in the supply chain. This makes them potential partners rather than rivals.
Trade shows also help create phenomenal awareness around a business, its brands and products. Most trade shows worth their salt have an active and extensive marketing campaign in place, with plenty of opportunities for exhibitors to get involved. Most will also have very active social media talk channels, such as Twitter, LinkedIn and Facebook.
Q) Do you have any interesting speakers or seminars lined up?
A) Of course, we always do! I have been sworn to secrecy on some of the names we have onboard, but I can tell you that we already have Weetabix, Innocent, Britvic, Little Fingers Organic Baby Food Co, Quintessential Brands, John Lewis and The Body Shop signed up to speak. To find out about the rest you will have to come and visit the show.
Q) How does this trade show stand out from others?
A) Easyfairs only give a set amount of space to each exhibitor, so no business or brand can dominate the show floor. This creates a level playing field and gives, even the smallest companies, the chance to stand out if its product or service is interesting.
Plus by positioning SMEs next to global giants, with exactly the same sized stand, it offers a huge array of products/services you just won't see anywhere else under one roof. From a visitor point of view this is very valuable; it means they will see a much greater variety of potential suppliers and companies they just won't see at other shows.
The show offers both exhibitors and visitors a unique experience, especially compared to other shows out there. We have a different concept that allows everything to be seen very easily. Exhibitors get to network and interact with some of the biggest buyers and decision makers within the packaging industry, whilst the visitors get to see the very best packaging innovations and concepts. I really feel that the show is able to deliver top notch results for every single person that walks through the doors.
We draw on our experience, as a leading event organiser across a spectrum of industries, to keep the show relevant. We have seen other shows try to incorporate too many facets of the industry and go too broad. We are very aware that being too broad is not an asset, but actually the sign of a show that is losing its grip on its audience.
Q) How do numbers compare with previous years? 
A) Whilst pin-pointing actual numbers is not something we like to do, we are hoping to welcome more than 7,000 visitors to the show this year.
We certainly expect to see more visitors than last year, and that was our most successful show to date. Although an increase in numbers is something every trade show strives for, we are particularly focused on attracting the right quality of visitor.
We pride ourselves on having an interactive show that boasts lovely content, but also allows deals and networking to take place.
In terms of exhibitors, we boasted a 70 percent rebooking rate at the 2015 show, so it is safe to say that we are firmly on track to have an expanded show floor for the 2016 show.
Again, I am not able to give set numbers, because they will have changed by the time this Q&A goes to print. The show is bigger and better!
Q) What are your thoughts on the industry generally at the moment? 
A) The packaging industry as a whole is very strong, partially because it is fiercely competitive. You have to stay on point when it comes to the latest trends and innovations, or risk being left behind by more progressive and proactive rivals. This is why a show like ours is so beneficial, because it ensures you stay ahead of the curve and it gives organisations all the opportunity to update and re-vamp its packaging processes if necessary. There is no excuse for falling behind, so get yourself down to the show and advance your packaging wow factor.
Q) Is this a show where deals get done on the floor?
A) Very much so! It is so important deals can be done live on the show floor, otherwise it turns into a purely networking event. Perhaps it is another thing that makes us stand out from other trade shows, but our exhibitors return year on year because of the sales opportunity. I think an exhibitor comment would carry more weight than me here.
Malcolm Little, Managing Director at Advanced Engineering was quoted at last year's show saying: "This show always delivers. By lunchtime on the first day we'd done a deal with eVapor Electronic Cigarettes. They walked onto the stand and within 20 minutes purchased the ELF 50 labelling machine, with the potential of another!
"Under normal circumstances it can take months to find a new client and close an order like that – and at the show we did it in minutes! That's because the show really knows how to attract the right kind of people, decision makers who are in the market to buy. This show is about the whole industry and that's really important as packaging is such an interconnected discipline."