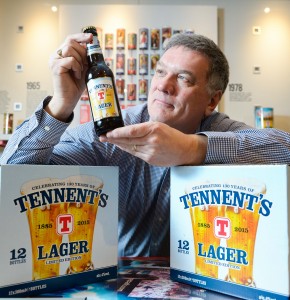 TENNENT'S Lager has launched limited edition retro-style packs to mark 130 years of brewing.
The packs feature "iconic 80s packaging" and Tennent's has announced they will give customers with Tennent's Lager memorabilia from the 80s the opportunity to earn one of the retro six-packs. All they need to do is pop into the brewery with their item, or tweet a picture to @tennentslager using #TLRetro.
The classic packs will soon be available in Tesco, Spar and Keystore outlets across Scotland in packs of 6 and 12.
Paul Condron, marketing director at Tennent Caledonian said, "We're 130 years old this year so this felt a like a good time to celebrate our brewing history with the launch of an iconic retro pack that gives a nod to one our best loved packs of the 1980s.
"We're sure there's plenty of 80s Tennent's memorabilia out there and we look forward to seeing it. Punters can pop into the brewery and show us in person or simply tweet us a picture and we'll send them a free retro six-pack. We think the packaging will be a hit, but would like to point out that you don't need to have a mullet to enjoy it."