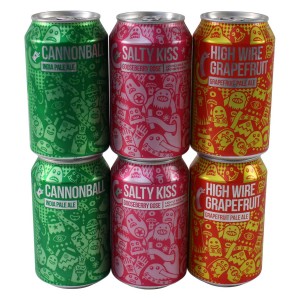 MAGIC Rock has selected Rexam to create designs for its first ever canned beer range.
The craft brewer is making the transition from traditional glass bottle to can.
Rexam said the designs, developed for Magic Rock's Cannonball, High Wire Grapefruit and Salty Kiss varieties, include "bold, clean branding set against a background of brightly contrasted colours and creative cartoon sketches".
The incorporation of the 'Metal Recycles Forever' logo highlights the brand's dedication to sustainability.
Richard Burhouse, MD at Magic Rock, said, "Working with Rexam to move from glass bottle to beverage can was a collaborative and effective experience. The graphics and design centre at Luton enabled us to understand the full design and manufacturing process and the proofing session was invaluable. We're really pleased with the final designs and are proud to be one of the first UK craft brewers to adopt the 'Metal Recycles Forever' logo, showcasing our commitment to sustainability as a business."
The 33cl cans will be available online and across multiple craft beer specialist retailers.