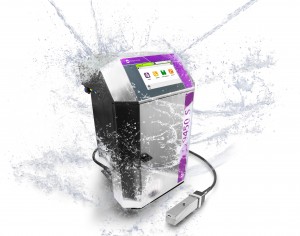 Markem-Imaje has launched a new printer specifically designed to meet the drink sector's demand for traceability, versatility and hygiene.
The firm says its 9450 S model ensures that every product leaves the factory coded, that each code is right and that each code is and will be perfectly legible until it is consumed.
They say traceability is guaranteed with Mark & Read, an embedded system of coding and proofreading with a camera, directly on the user interface. Additionally, to be certain the right ink is used, the printer automatically checks the reference and best-before date of the consumable cartridges inserted by the operator thanks to its consumable system.
The 9450 S has been designed to meet the beverage sector's demanding hygiene standards. It is made of stainless steel with IP56 (standard) and IP66 (option) protection rating. It can also withstand high-pressure water cleaning and industrial detergents. The design is smooth with no retention zones, which reduces bacterial contamination risks.
The 9450 S printer is described as being capable of coding two lines on the fastest existing production lines: up to 120,000 products per hour. With just one ink reference, the printer can code PET and glass bottles (including returnable glass), cans, liquid bricks, pouches, caps, wrapping films and shipping containers. This can be a very useful solution when various containers are used in the same plant.
Several specialty inks are also available including a white ink that can resist the pasteurisation process for dark glass, a permanent anti-counterfeiting ink to ensure brand protection, and a MEK-free ink for less environmental impact. Markem-Imaje say operating costs are up to 30% less than other competitive models. Ink consumption has been decreased thanks to specific fonts and optimised sector-specific resolutions. And like the entire 9400 range, the ink circuit design boasts a recycling system allowing a reduction of additive consumption of up to 2.5 ml per hour. The 9450 S printer can also carry out promotional coding operations by importing single codes from a USB thumb drive.