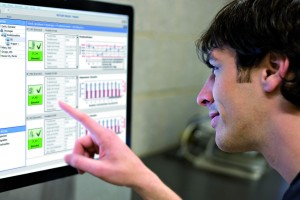 Jana Meier, marketing team leader product inspection & head of marketing checkweighing, Mettler-Toledo, discusses the benefits of checkweighers.
MANUFACTURERS face the challenges of managing costs without compromising their products' quality and safety in order to remain competitive in a global market.
Across the world, stringent food safety measures are being put in place to uphold the quality and integrity of the food we consume, placing an added burden on manufacturers to comply in order to export in new markets. It is therefore imperative for manufacturers to optimise their resources to adapt to the ever changing market requirements and get a much clearer understanding of where to make improvements to their operation.
How can checkweighers help?
Checkweighers can help manufacturers optimise their production processes to meet these many demands. Highly versatile, multi-functional, available in different sizes and configurations, they can be easily integrated on production lines, even in high-speed layouts, to inspect packaged products to determine if they are the correct weight, minimising the risk of under or overweight packs.
Checkweighers with a connectivity software function can allow for automatic communication with other product inspection machines on the line, providing a more accurate and extensive holistic view of the manufacturing process. They are also able to incorporate additional devices to enable multiple forms of product inspection to be carried out at the same time. For example, combination checkweighing and x-ray systems can enable manufacturers to detect missing items from a box of chocolates, or a tablet in a blister pack of painkillers. Checkweighers incorporating barcode scanners and vision inspection equipment can check labelling to protect manufacturers against costly rework or even call-backs by ensuring compliance with the European Union (EU) Regulation No 1169/2011 on Food Labelling. Overall, checkweighers can go a long way in maximising line efficiency and reducing manufacturing costs. However, they can be even more effective at this role if used in conjunction with an Overall Equipment Effectiveness (OEE) programme.
What is OEE?
Developed by inventor Seiichi Nakajima, as a central component of his Total Productive Maintenance methodology to boost manufacturing efficiency, OEE is a measure to track and assess production performance. The concept has gained wide acceptance across a number of sectors as a quantitative tool to measure equipment performance to help manufacturers bring a product to market at minimum cost and to provide greater visibility into operations.
To determine OEE, an OEE metric is obtained by calculating the number of products produced compared to the allocated production quantity, based on the scheduled time and specific time rate. The performance of the manufacturing unit is then broken into three separate but measurable components: availability, performance efficiency and quality.
OEE measuring tools document reasons for downtime, both scheduled maintenance and unscheduled repairs, as well as product changeovers. In addition to losses attributed to downtime, monitoring OEE will identify other areas such as reduced line speeds and minor stoppages due to equipment sensitivities.
Why is OEE important?
The main benefit of implementing an OEE protocol on the production line is that it gives valuable insight into the extent resources are not used to their capacity, and help eliminate fault sources accurately without interfering with the production cycle. However, OEE is just a measurement method that indicates where faults occur, what potential reasons for these faults might be and what action needs to be taken to improve the OEE. It is not a solution in itself but an important tool which manufacturing industries can utilise to drive efficiency, achieve higher quality and reduce costs.
What areas of the production can benefit from OEE?
There are four aspects of the production line that can directly benefit from utilising OEE: equipment, personnel, process, and quality.
Reducing equipment downtime is crucial particularly because even the shortest period of machinery inactivity can bring downstream operations to a standstill. This in turn, can impact on delivery commitments, directly affecting cash flow and potentially losing customers. Regular monitoring and documenting of line stoppages and equipment performance, as part of an OEE programme, can also help reduce maintenance costs and provide valuable insight into why stoppages occur, plus how they can be avoided in the future.
Managers and other key personnel can benefit from an OEE system through the use of software tools that capture manufacturing performance data and display performance results in real time. This can give companies improved visibility into operations, enabling them to optimise the productivity of their workforce. As such, less time is spent documenting and reporting as this is done automatically, leaving more time to focus on other responsibilities.
Process efficiency can be seriously impacted through the instance of bottlenecks i.e. areas on the production line where flow is restricted, slowing down operations. An OEE system can help manufacturers identify the reasons behind the occurrence of any bottlenecks, such as equipment capacity limitations or changeovers, so that they can be removed and corrected to boost productivity.
OEE can also have a positive impact on production quality, due to the information it records into the likely causes of product rejects, particularly if a pattern emerges.
What role do checkweighers play in boosting OEE?
Because checkweighers are usually placed at the end of a production line, they are ideal for collecting valuable data for the calculation of OEE. The statistical information provided can be used to optimise OEE to provide greater efficiency, particularly in the quality control process.
Checkweighing technology not only provides valuable support in accurately measuring each of the OEE components, it also helps manufacturers achieve regulatory compliance, particularly in the pharmaceutical and food industries where minimum weight requirements are critical in many production operations. By optimising filling quantities and minimising overfill, it increases general efficiency.
In addition, checkweighers calculate and display statistical information about production processes and highlight variations which could lead to unexpected downtime.
Is OEE an absolute measure?
While OEE can encompass the machinery, the production lines or even the entire plant, giving manufacturers greater insight into operational performance, it is not an absolute measure, and is best used to identify areas for improvement.
An integral part of quality control
Checkweighers not only play a key role in the quality control process, but they can also help boost OEE by increasing the efficiency of manufacturing processes by ensuring consistency in the delivery of product quality, and boost the bottom line through the reduction of waste. In addition, they can help manufacturers compete in the global economy by staying compliant with local and international safety regulations.