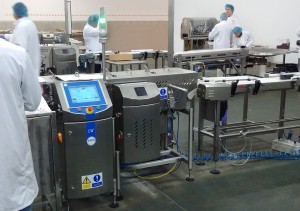 AN Aberdeen seafood manufacturing plant has installed two CW3 combination checkweigher and metal detection units and a standalone IQ3 metal detector from Loma Systems.
The purchases cement a 20-year relationship between Joseph Robertson and Loma.
The equipment, which complements three existing CW3 machines, provides extra inspection capacity in line with growth and also replaces outdated models.
Installed on three separate packing lines, the new Loma CW3 combination checkweigher and metal detection units and IQ3 metal detector are inspecting a wide range of Joseph Robertson seafood products, including frozen and chilled coated fillets and fishcakes, for contaminants at speeds up to 80 packs per minute.
Located in the heart of Aberdeen's fishing community, Joseph Robertson has one of the most modern sea fish manufacturing sites in the UK.
Simon Robertson, director at Joseph Robertson said, "We have used Loma equipment on and off for over 20 years, mainly due to its functionality, reliability and ease of use. Built with heavy-duty conveyor components and high quality electronics, the CW3 combination unit in particular is ideal for tough production environments like ours.
"As well as providing high performance inspection systems that offer low  cost of ownership and good management of process KPI's, Loma's industry knowledge helps ensure we keep up to date with increasingly stringent legislative requirements."
Explaining the specific inspection demands of the Joseph Robertson operation, Loma's Alex Learmonth added, "The preparation of seafood involves processes such as trimming, boning, gutting, skinning and filleting. A quality control system such as the CW3 combination allows early identification of foreign bodies during the production process. To maintain best quality in the unlikely event of metallic contamination from knives and mechanical equipment, Joseph Robertson passes all its products through Loma inspection equipment for reassurance that even the tiniest particles are detected and removed."