CLIP Group get claws into crab meat packs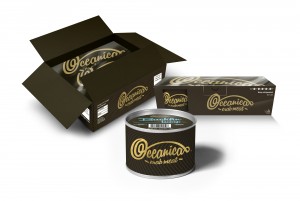 The CLIP Group have unveiled their newly designed packaging for Oceanica, a premium brand belonging to America's largest crab meat company Blue Star Foods.
Headquartered in Miami, Florida Blue Star Foods is an international firm that produces crab meat in production facilities all over the world. After designing several retail and foodservice brands including their flagship brand, CEO John Keeler commissioned The CLIP Group to create a brand for their gourmet crab range. The CLIP Group specialise in branding, design and packaging design and work with a number of food and drink clients.
Some aspects of the brand were predefined such as the name Oceanica and the packaging nets, therefore the designers had to take these limitations into consideration throughout the process.  "The client required branding and packaging for a premium product that was focused towards mainly independent restaurants," explained Anish Mistry, creative director at The CLIP Group. "To have so much creative freedom for a foodservice product was a great opportunity for us to be pioneering. We needed to ensure the colours, typography and the feel of the brand and packaging was high end whilst also ensuring that the key messages of the product were also portrayed. We had to create a visual brand with enough impact to engage with foodservice clients."
Tagged CLIP Group, Oceanica