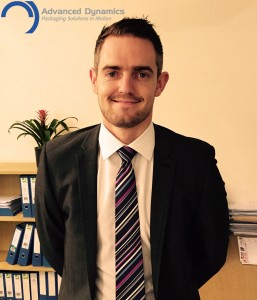 Advanced Dynamics Ltd has added to its sales force with the appointment of Tom Smith in the wake of a busy order book and increased interest in its labelling equipment.
Tom has taken up the post of sales manager and has already closed a number of orders.
Advanced Dynamics Ltd is the UK distributor for global labelling machine manufacturers such as Pack Leader, Köra-Packmat and Eurokett, as well as supplying sheet counters made by B.Matic.
Tom said, "I have known Advanced Dynamics for many years and when this opportunity arose, I knew, with the ethos of the business, the positive attitude of the guys and the future plans of the company along with the obvious merit of proving a Lancashire lad can shine amongst a Yorkshire crowd, that this was the role for me. It's a new challenge and one that I can't wait to get my teeth into; my aim is to increase sales and help the company to continue to prosper."
Managing director, Malcolm Little, added, "Tom brings with him great character, drive, invaluable industry experience and his appointment is a further commitment to the company's mission to break into new markets, providing customers with the best expertise to go along with a range of cost-effective automated solutions to improve their production efficiency, quality and costs. I'm sure Tom will enjoy a long and successful career at Advanced Dynamics. As the company grows we need high calibre staff to match our high quality equipment and Tom fits the bill perfectly. He will drive sales, enabling me to ensure that the company is achieving its goals and objectives in all sectors."