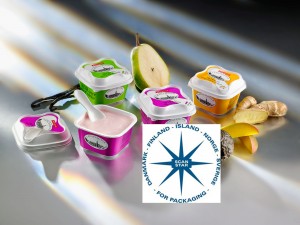 Two pack innovations from RPC Superfos have been awarded Scanstars in the annual Nordic packaging competition.
RPC Superfos has been recognised for its EasySnacking™ pot for on-the-go eating and its bespoke pot for panna cotta with fruit sauce, developed for Finnish dairy producer Valio Ltd. Both packs are injection moulded in polypropylene.
The special feature of the pot for Valio is the click-and-push spot at the bottom of the pot. To serve the panna cotta, consumers need only to take off the sealed foil, turn the pot upside down and then gently squeeze the bottom a few times. This makes the pot break in three places and, as the air gets in, the panna cotta and sauce gently come out. The result is a decorative instant dessert on a place.
In its citation, the Scanpack judging jury described the pack as "a new and innovative solution. It is a pack with added value… (and) establishes interaction between the end-users and the brand owner. It is a functional result of new thinking and a step towards increased user-friendliness… The result becomes a pleasant plate presentation."
The Scanstar jury said that EasySnacking™ "lives up to the requirements of a pack for the 'on-the-go' market…The closing mechanism is an extra advantage which makes it simple to stack the packs, leading to an efficient use of space on the shelves and during transport…In-mould labelling renders an impressive look and it is easy to get hold of the spoon and the contents. It is a complete solution."
The Scanstars will be presented at an awards ceremony in Gothenburg, Sweden on 20th October. Both packs are also now eligible to receive a WorldStar in the next round of the competition.