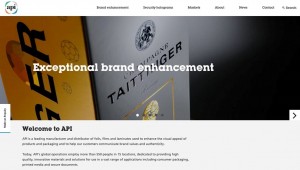 API has re-launched its website at www.apigroup.com to deliver what they describe as a "modern and user-friendly experience" through a focus on its brand enhancement and security hologram products and services.
The new website introduces a new Trend section to users, which highlights packaging examples according to the 4 key trends identified by API. This section also features API's new creative brand enhancement service which works with brand owners to help find the most effective packaging trends and effects that can add value to their products.
Taking inspiration from a cross-section of premium FMCG markets from drinks to tobacco, confectionery and the cosmetics sector, the website features all API's products and brand enhancement services and how they can be effectively applied to develop product packaging.
A new Resources section also builds on API's knowledge base and sharing this with customers. Two new White Papers 'Creating a Perfect Foil – Understanding and overcoming some common problems' and 'The Foil that Came in from the Cold' present best practice in the use of hot and cold foils. New White Papers will continue to be added, exploring API's products and their use in helping enhance and protect brands across market categories.
Will Oldham, Chief Commercial Officer at API, said, "API offers a wealth of products and services to companies worldwide to enhance and protect their brands and products and we wanted our website not only to reflect the breadth of our capabilities but also to help users find inspiration and ideas for their projects. API works closely with its customers to enhance their brands and add value to their packaging and our website aims to do exactly the same, in a highly visual and interesting fashion."